David James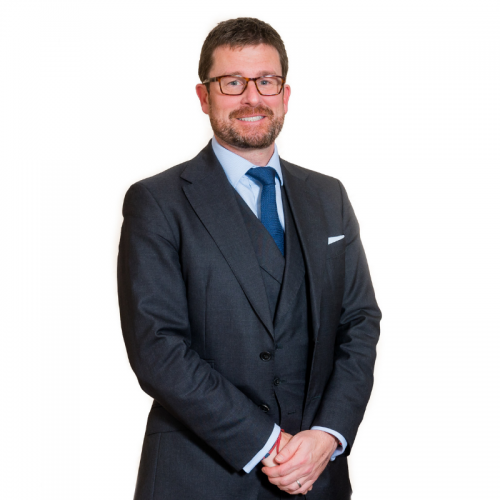 David is an advocate specialising in serious road traffic law, regulatory, health and safety, inquests and serious crime.
Individual, professional and corporate clients receive a tailored service aimed at defending positions and protecting reputations. David's focus is a client-based approach to ensure individual, professional and corporate clients remain central to the court processes. David's approach to a client's case epitomises teamwork, thorough preparation, problem solving and strategic management of cases to achieve optimum results.
David is regularly and consistently instructed in cases involving serious and fatal injury and has particular skills in mastering scientific and medical data, large volumes of data and distilling complicated issues for presentation in clear, concise and easy to follow terms for the benefit of the decision-making tribunal, be it professional judges or juries. David is diligent and has a professional approach and manner suited to the most distressing of cases.
A particular specialism is serious road traffic accidents involving serious and fatal injury and is predominantly instructed in these cases with the backing of national insurance companies.
David receives instructions in cases leading other junior counsel, particularly in cases involving financial irregularity and maintains a practice dealing with very serious crime.
David receives regular Hackney and Taxi Licensing instructions on behalf of Manchester City Council and is licenced to provide legal advice and representation directly to members of the public.
Education
BSc (Hons), Brighton
LLB (Hons), Nottingham Trent
Appointments
Specialist Regulatory Advocate in Health and Safety and Environmental Law – List B
Accredited for Direct Public Access instructions
Expertise
Crime
Regulatory
Inquests
Public Access
Crime

Cases

Driving (Death / Serious Injury by Driving)

R v R: Represented an HGV driver acquitted of alternative allegations of Dangerous and Careless Driving Causing Death. The trial heard at Newcastle Crown Court involved the level of care expected of an HGV driver prior to conducting, and during a reversing manoeuvre.

R v H: Death by Dangerous (collapse when driving following a stroke/ongoing medical condition).

R v R: Death by Dangerous (HGV driving reversing into motorcyclist).

R v M: Death by Careless (police officer driving at speed through junction).

R v R: Represented an HGV driver found not guilty after trial of causing death by careless driving following a collision with a motorcycle during a U-turn procedure.

R v E: Death by Careless driving. See the news story here.

R v M: Death by Careless (collision with pedestrian crossing road).

R v S: Death by Careless (collision with motorcycle at road junction).

R v S: Death by Careless (collision with cyclist).

R v A: Death by Dangerous (speed through junction collision with pedestrian).

R v C: Death by Dangerous (racing on road).

R v S: Death by Dangerous (speed/loss of control/humped bridge).

R v E: Collision (distracted by dog).

R v L: Death by Dangerous (loss of control/defective tyres/inexperienced driver).

R v J: Death by Dangerous (fitness to stand trial/Alzheimer's).

R v P: Death by Dangerous (undiagnosed neurological deterioration).

R v B: Collision at School Crossing (multiple injury/coughing fit/Syncope).

R v S: Serious Injury by Dangerous (sleep apnoea/medical conditions).

R v E: Death by Careless (collision with pedestrian/causation/unlit road).

R v R: Death by Dangerous (speed/drag racing high powered vehicle).

R v C: Death by Careless (multiple fatality/physically disabled driver).

R v C: Death by Careless (multiple fatality/speed inattention/unlit road).

R v DS: Death by Dangerous (multiple fatality/HGV driver/motorway collision).

R v M: Death by Dangerous (HGV driver/sneezing/involuntary distraction).

R v L: Death by Dangerous (HGV driver/collision on slip road).

R v H: Death by Careless (HGV driver, collision with pedestrian during turn).

R v W: Death by Careless (HGV collision with pedestrian during turn).

R v P: Death by Careless (collision with pedestrian at crossing).

R v C: Death by Dangerous (HGV driver crossing dual carriageway).

R v R: Death by Careless (HGV driver performing U-turn on dual carriageway).

Serious Crime

R v AD and CJW: Prosecuted two men jailed over £61m drug trafficking conspiracy. The men were sentenced to a total of 35 years imprisonment. The case was reported on the BBC, the Manchester Evening News and the Oldham Times.

R v W (& M, Z & C): Defended in a case involving an Organised Crime Group planning to murder a rival on the streets of Salford with an arsenal of military grade weaponry. The case was reported in the Manchester Evening News.

R v E: Junior counsel for Ademola Efunnuga who was acquitted after trial of allegations of murder and manslaughter. The case was covered in the Mirror and the Manchester Evening News.

R v C: Multi-million pound alternative investment/trust fraud/Ponzi scheme.

R v A: Prosecuted a prolific thief and secured a Criminal Behaviour Order banning her from every retail shop in Manchester City Centre. The case was covered by Manchester Evening News.

R v Mc: Murder (drowning).

R v S: Murder & firearms.

R v F: Murder (of parent) as featured on C4 The Prosecutors.

R v Q: Murder (assassination by shooting).

R v L: Defendant on second murder allegation.

R v S: Manchester gang murder.

R v DG: Murder Attempted Murder (knife attack in city centre nightclub).

R v A: Attempted Murder (knife, domestic attack, PTSD).

R v S: Conspiracy – Gangland doorstep shootings.

R v A: Fraud – Leading Junior.

R v W: Conspiracy to Defraud – Leading Junior (£1m fraud).

R v G: Conspiracy to Defraud – Leading Junior for Lead Defendant of 63.

R v. D-C: UK's largest online drug dealing operation.

R v C: Conspiracy to Import £25m Class A drugs.

R v K: £1.4m amphetamine seizure by International Organised Gang Leader.

R v O'C: Rape allegation following meeting via social media dating website.

R v R: Rape allegation following meeting via social media dating website.

Professional Conduct

R v M: Death by Careless (police officer driving at speed through junction).

Re DM: Police officer – inquest following death in custody.

R v C: Headmaster facing multiple historic sexual allegations against pupils.

R v R: Deputy headmistress accused of cruelty against pupils.

R v M: Allegation of illegal hunting with dogs by master of mounted hunt.

Re W: Advising a financial adviser and investor regarding private prosecution and enforcement following multi million euro oversees investment.

Re S: Company production manager implicated in workplace fall from height.

Book BarristerBack to top

Regulatory

Cases

Driving (Death / Serious Injury by Driving)

R v. H: Death by Dangerous (collapse when driving following a stroke/ongoing medical condition).

R v. R: Death by Dangerous (HGV driving reversing into motorcyclist).

R v M: Death by Careless (police officer driving at speed through junction).

R v M: Death by Careless (collision with pedestrian crossing road).

R v S: Death by Careless (collision with motorcycle at road junction).

R v S: Death by Careless (collision with cyclist).

R v A: Death by Dangerous (speed through junction collision with pedestrian).

R v C: Death by Dangerous (racing on road).

R v S: Death by Dangerous (speed/loss of control/humped bridge).

R v E: Collision (distracted by dog).

R v L: Death by Dangerous (loss of control/defective tyres/inexperienced driver).

R v J: Death by Dangerous (fitness to stand trial/Alzheimer's).

R v P: Death by Dangerous (undiagnosed neurological deterioration).

R v B: Collision at School Crossing (multiple injury/Coughing fit/Syncope).

R v S: Serious Injury by Dangerous (sleep apnoea/medical conditions).

R v E: Death by Careless (collision with pedestrian/causation/unlit road).

R v R: Death by Dangerous (speed/drag racing high powered vehicle).

R v C: Death by Careless (multiple fatality/physically disabled driver).

R v C: Death by Careless (multiple fatality/speed  inattention/unlit road).

R v DS: Death by Dangerous (multiple fatality/HGV driver/motorway collision).

R v M: Death by Dangerous (HGV driver sneezing/involuntary distraction).

R v L: Death by Dangerous (HGV driver/collision on slip road).

R v H: Death by Careless (HGV driver, collision with pedestrian during turn).

R v W: Death by Careless (HGV collision with pedestrian during turn).

R v P: Death by Careless (collision with pedestrian at crossing).

R v C: Death by Dangerous (HGV driver crossing dual carriageway).

R v R: Death by Careless (HGV driver performing U-turn on dual carriageway).

Health & Safety

HSE v JL Ltd: Defended a Plumbing and Heating company fined £5,000 for breaches of ss.2 and 3 of the Health & Safety at Work etc Act 1974 following a gas explosion at a residential property resulting in significant burn injuries to an employee. The case received coverage on Construction News.

HSE v NJ Ltd: Amputations from plant machinery to a tree surgeon.

HSE v A Ltd: Traffic management at educational establishment resulting in serious injury accident.

Ealing Borough Council v S Ltd: Fall from height in warehouse of multi-million pound luxury furniture company.

CC v HH: Multi-million pound fraudulent business – multi-million pound sales of dangerous chemicals/teeth whitening.

HSE v R Ltd: Improper use of plant machinery/fatal accident at dockside.

HSE v W Lt: Building Regulations – fall from height (scaffolding).

HSE v NR: Residential care home – fall from height.

HSE v T Ltd: Amputation to engineer at bowling alley.

Fire Regulations

FA v KK: Breach of fire regulations at large city centre hotel.

FA v ZA: Breach of fire regulations multi-occupancy premises.

FA v L: Breach of fire regulations at a retail outlet.

FA v M: Breach of fire regulations at a city centre nightclub.

Food Safety & Hygiene Regulations

Re S (A takeaway): Advice on food hygiene rating and investigation following rodent activity.

CC v T Ltd: Food poisoning outbreak by catering firm.

R v H: Food hygiene regulations: illegal slaughter house.

Environmental

LA v A Partnership: Statutory nuisance – noise from a local retail outlet.

LA v A Partnership: Statutory nuisance – smoke from waste fires at recycling business.

R v M: Company breaching waste management regulations.

Professional Conduct

R v M: Death by Careless (police officer driving at speed through junction).

Re DM: Police officer – Inquest following death in custody.

R v C: Headmaster facing multiple historic sexual allegations against pupils.

R v R: Deputy headmistress accused of cruelty against pupils.

R v M: Allegation of illegal hunting with dogs by master of mounted hunt.

Re W: Advice to financial adviser and investor regarding private prosecution and enforcement following multi million euro oversees investment.

Re S: Company production manager implicated in workplace fall from height.

Book BarristerBack to top

Inquests

Example Inquests

For employer following death by fall from height/scaffolding on construction site.

For care home following death by fall in assisted living facility.

For insured HGV driver involved in fatal collision with pedestrian.

For production manager following fall from height by employee.

For management company following fall from height by child trespassers.

For national care provider following death by unrecognised medical conditions.

For medical care provider following death at assisted living facility by hypothermia.

For national public service provider following death in custody.

Book BarristerBack to top

Public Access

David is accredited to receive instructions directly from members of the public through the Public Access Scheme.

Click here to view our Public Access pages and details of the process for instructing public access accredited barristers.

Book BarristerBack to top