Maria Brannan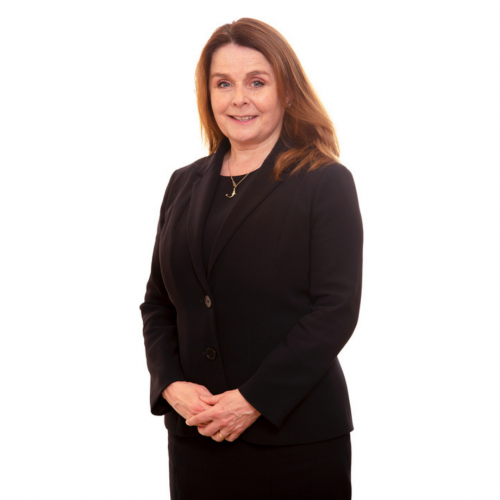 Maria specialises in criminal and regulatory work, including Armed Forces Law and Motoring Law. A category 3 prosecutor, she is regularly instructed to defend and prosecute, combining a pragmatic and user friendly approach with an attention to detail and robust preparation.
Before joining St John's Buildings in 2017, Maria practiced  for over 18 years as a Senior Crown Prosecutor and Higher Court Advocate with the Crown Prosecution Service, prosecuting cases of the utmost seriousness and complexity, including murder, manslaughter, complex fraud and serious sexual offences.
She is frequently instructed in cases involving vulnerable clients and witnesses, including those with mental health issues. She has a particular knowledge of issues faced by those on the Autistic Spectrum, and places great emphasis on working closely with her instructing solicitors to ensure the client's case is effectively presented.
As junior counsel, she is regularly led in cases involving murder, manslaughter,  large scale complex fraud and money laundering. She is adept in the investigation and presentation of complex phone and financial data, cell site evidence and complex forensic issues. She has considerable experience of  multi-handed, document heavy cases, with complex disclosure issues.
In 2019,  Maria received a Chief Superintendant's Commendation from Greater Manchester Police in recognition for her work in connection with the successful prosecution of a local murder.
Appointments
CPS Specialist Fraud Panel – Level 3
Approved Defence  Advocate for the Military Union
Expertise
Crime
Fraud - Criminal
Regulatory
Courts Martial and Service Law
Crime

MURDER AND SERIOUS VIOLENCE

R v Z 2020, Birmingham Crown Court

Murder – armed robbery by gang leading to fatal shooting. Prosecution junior. Prosecution involved extradition of the defendant from Pakistan, fitness to plead issues, analysis of phone data, and cell site evidence. Complex unused material issues relating to involvement of assisting offender.

R v Donaldson 2019, Birmingham Crown Court

Murder – Gang related stabbing. Prosecution junior. Complex forensic analysis of footage from multiple CCTV cameras.  Cell site analysis and mobile phone comparison. Defendant convicted of murder. The case was covered on Birmingham Live.

R v IF 2019, Minshull Street Crown Court

Defence of youth charged with robbery with an axe and kidnapping. Defendant received a community order,  following successful mitigation.

R v Patrick 2018, Manchester Crown Court

Murder – Unprovoked attack in front of neighbours. Prosecution junior. Defendant convicted of murder after trial. Trial covered by the national media. Manchester Evening News, The Mirror.

Maria was awarded a Certificate of Commendation from Greater Manchester Police for her work on this case.

R v B

Section 18 – successful defence of client accused with his wife of a serious assault in which the  victim was left partially blinded. Representations made on client's behalf led to the assault charge being dropped and the client receiving a suspended sentence for affray. The case was covered on the BBC.

R v Thompson 2019, Manchester Crown Court

Section 18 wounding. Prosecution of male accused of nightclub stabbing. Presentation of complex sequence of CCTV evidence. Defendant convicted after trial.  Manchester Evening News.

R v Leighton 2018, Minshull Street Crown Court

Section 18 wounding x 2. Prosecution of male, accused of random stabbings members of the public in Ashton town centre. Trial involved analysis and presentation of complex CCTV footage, phone data and cell site analysis.  Defendant convicted after trial.

R v Dunn 2016,  Manchester Crown Court

Section 18 grievous bodily harm. Prosecution of male attacking vulnerable victim in their own hammer, causing fractured ribs. Further prosecution of same defendant for unprovoked attack upon second vulnerable male, who died hours later. Case widely reported in national press The Independent, Manchester Evening News.

SEXUAL OFFENCES

R v H 2020, Bolton Crown Court

Successful defence of young autistic male charged with serious sexual offences.

R v Hodgin 2020, Minshull Street Crown Court

Successful prosecution of male who had pursued campaign of terror against ex-partner, including posting indecent images of her online. Case preparation involved analysis and presentation of hi-tech evidence relating to creation of false Instagram accounts and linking accounts to specific IP addresses. The case was covered in Manchester Evening News.

R v M  2019, Nottingham Crown Court

Successful defence of off duty police officer accused of sexual assault.

R v H  2018, Blackburn Youth Court

Prosecution of youth with learning difficulties accused of serious sexual assault other another child. Case involved intermediaries, vulnerable and reluctant child witnesses. Defendant convicted after trial.

R v MH  2017,  Minshull Street Crown Court

Non-recent sexual abuse trial involving defendant (an auxillary nurse),  accused of sexual abuse of a child whilst administering treatment. Defendant convicted after trial.

R v Rak  2015,  Manchester Crown Court

Successful prosecution of male, accused of serious sexual assault upon an unconscious woman in Manchester City Centre. Case involved contested forensic and medical expert evidence regarding significance of DNA recovered and rate of healing of internal injuries. Successful legal argument against admission of complainant's sexual history. Case reported Manchester Evening News.

R v Ahmed 2015, Manchester Crown Court

Taxi driver accused of sexual assaults upon two women. Both witnesses were vulnerable and expressed reluctance to give evidence at trial. Arrangements made to meet witnesses prior to trial to reassure them regarding court procedures. Successful legal argument against admission of complainant's sexual history. Defendant convicted after trial.

Book BarristerBack to top

Fraud - Criminal

LARGE SCALE CONSPIRACIES AND FRAUD  (INCLUDING PROCEEDS OF CRIME)

R v Kavanaugh 2020

Successful prosecution of defendant who had defrauded a series of car dealerships. Case involved analysis and presentation of dealership records and bank accounts. Defendant received 15 months' imprisonment.

R v Chaudry and others 2019,  Manchester Crown Court

Large scale multi million pound money laundering conspiracy. Prosecution junior. Case involved analysis and presentation of financial data and phone data. All defendants convicted. The Mirror,  Manchester Evening News.

R v C 2019, Stafford Crown Court

Successful defence of businessman accused of storing stolen cars and running cannabis farm from his business premises. Client acquitted of all charges.

R v Ward and others (Operation Wessex) 2017, Manchester Crown Court

Manslaughter and conspiracy to steal. Prosecution junior. Large scale conspiracy to steal high value motor vehicles. Van owner killed during one of the thefts. Case involved analysis and presentation of large volume of phone and cell site data,  and forensic evidence. All defendants convicted. Case received national coverage. BBC, Manchester Evening News, Daily Mail.

R v Akhter and others (Operation Hamilton) 2016, Manchester Crown Court

Conspiracy to defraud. Prosecution junior. Large scale conspiracy 'courier fraud' – gang targeting elderly and vulnerable persons by telephone, persuading  them to reveal bank account details. Over 300 victims. Case involved analysis and presentation of large volume of phone data relating to over 50 phones, together with analysis of bank evidence and CCTV footage. All defendants convicted. Case received national coverage. ITV,  Manchester Evening News.

Book BarristerBack to top

Regulatory

REGULATORY AND MOTORING OFFENCES

R v E 2020, Minshull Street Crown Court

Defence of woman charged with causing the death of a child through careless driving. Case attracted substantial press interest. Defence preparation involved successful application to prohibit publication of client's address, in addition to instructing experts in connection with post-traumatic stress disorder. Client received a short suspended sentence.

R v  T 2019, Liverpool Crown Court

Successful appeal against the conviction of an off duty police officer charged with driving with excess alcohol. He had been found unconscious in a vehicle, four times the prescribed limit for alcohol.

R v A 2019, Manchester Magistrates Court

Successful defence of motorist, accused of driving whilst three times over the prescribed limit following a car accident. Defence involved legal challenge to police evidence alleging admissions made at the scene.

R v  K  2019, Mold Crown Court

Defence of RAF member accused with two others of racing high powered cars at speeds of up to 120 mph and uploading  footage of driving onto Youtube. Client received a fine following successful mitigation, referring sentencing Judge to Queens Regulations (military law). Case received national media coverage BBC, Daily Post, Shropshire Star.

R v R  2019, Stockport Magistrates Court

Defence of motorist, found to be three times over the prescribed limit following accident, in which young children were in the rear of car. Client received a community order and disqualification following mitigation regarding client's good character and personal circumstances. Case received national media coverage  Daily Mail, Metro, The Mirror.

Police discipline

Case of M (2020)

Successfully argued against dismissal in gross misconduct proceedings, following an officer's conviction for driving with excess alcohol. Case also involved successful defence in proceedings concerning allegations of domestic violence.

R v T (2019)

Defence of police officer accused of driving whilst  three times the prescribed limit. Acquitted after trial

R v M (2019)

Successful defence of police officer accused of sexual assault.

Book BarristerBack to top

Courts Martial and Service Law

R v SS (2021)

Defence of church minister serving with the RAF charged with serious sexual offences. Acquitted after trial.

R v S (2019)

Defence of aircraftsman accused of sexual assault. Acquitted after trial.

R v A (2019)

Defence of solider accused of disobeying lawful orders and threatening a senior officer. Acquitted after trial.

Book BarristerBack to top