Kate Spence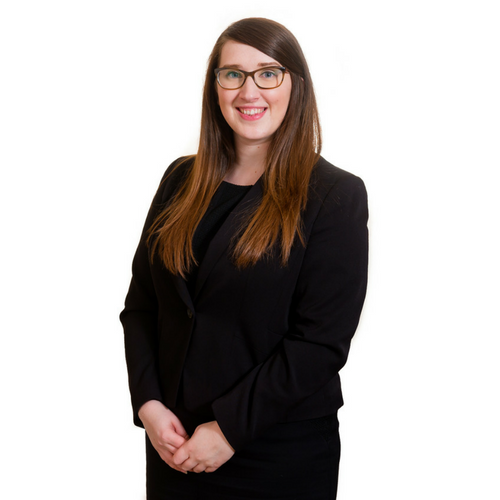 Kate graduated from the University of Manchester in 2012 with an LLB Law (Hons) degree. In 2013, she completed the BPTC at Manchester Metropolitan University with a "very competent". Kate was called to the Bar at Lincoln's Inn in October 2013.
Kate returned to the University of Manchester in 2013 to complete an LLM in Healthcare Ethics and Law, where she achieved a Distinction.
Kate completed a common law pupillage in Sheffield under the supervision of Pennie Stanistreet, Gordon Stables and Joseph O'Brien.
Expertise
Family - Children
Crime
Personal Injury
Family - Children

Kate practices in child law matters and Family Law Act 1996 proceedings.

As a pupil, Kate was supervised by Pennie Stanistreet and was exposed to several public law cases involving allegations of non-accidental serious injuries, sexual abuse and chronic neglect.

Public Law

Kate is regularly instructed by local authorities at all stages of public law proceedings, including final hearings and fact-finding hearings involving non-accidental injuries.

Kate has experience of drafting detailed threshold documents and schedules of findings.

Kate has also acted for parents at all stages of public law proceedings.

Recent cases

A Local Authority v W (2018): Kate appeared for the Local Authority in a case concerning a non-accidental injury to a child. Kate pursued findings despite significant opposition from all of the other parties. All of the findings Kate pursued were made.

Private Law

Kate regularly acts for parents in disputes over contact and residence. Kate has  experience of making applications for specific issue orders (e.g. to change a child's surname) and prohibited steps orders.

Kate is particularly passionate about resolving disputes and attempting to agree practical arrangements that are workable for the parties going forwards.

Kate is often instructed on behalf of Applicants in respect of applications for non-molestation orders.

Recent cases

M v D (2018): Kate appeared in the High Court to represent a father in a dispute between the parents regarding whether the child should receive medical treatment.

M v T (2018): Kate appeared on behalf of a father seeking parental responsibility for and contact with his child. Within these proceedings, Kate successfully argued that a specific issue order should be made to change the child's surname.

Testimonial

"Kate is a very approachable barrister and when confronted with a rather difficult private law case handled it with ease. With so many issues to resolve, the time taken by Kate in preparing before each hearing was very impressive. The level of detail included in her preliminary documents ensured that her position was set out very clearly and backed up with relevant legal knowledge. We would not hesitate to recommend and use Kate in the future". – Instructing solicitor

Book BarristerBack to top

Crime

As a pupil, Kate was supervised by Gordon Stables and was exposed to several Crown Court trials involving death by dangerous driving, sexual offences and GBH.

Kate frequently appears for the Prosecution and Defence in the Crown Court, Magistrates' Court and Youth Court. Kate has experience involving young witnesses, young defendants and vulnerable witnesses.

Cases

Crown Court

R v Shepherd (2018): appeared for the prosecution in a committal for sentence. The Defendant had been convicted of dangerous driving, driving without a licence and driving without insurance. The case received local media coverage in The Star.

R v Smith (2018): appeared for the defence in a committal for sentence. The Defendant had been convicted of ABH and possession of an offensive weapon. The Defendant had triggered the statutory minimum custodial sentence for the offensive weapon offence. Kate successfully argued that this sentence should be suspended. The case received local media coverage in the Nottingham Post.

R v AR (2017): appeared for the prosecution in an appeal from the Youth Court to the Crown Court where the Defendant had been convicted of GBH.

R v CB (2017): appeared for the defence in an appeal against sentence and secured a reduction in the Defendant's term of imprisonment.

Magistrates' Court

R v Pearson (2018): prosecuted a Defendant charged with offences arising out of a tree felling protest in Sheffield and secured a conviction for obstructing a police constable. This was the first conviction arising from this series of protests. This case received local media coverage on BBC South Yorkshire.

R v QM (2017): prosecuted a Defendant charged with several charges of racially aggravated assaults upon police officers, racially aggravated harassment and criminal damage. Secured a conviction on all charges.

R v GS (2017): represented a Defendant who had been convicted of several speeding offences which would have resulted in a driving ban. Successfully submitted an exceptional hardship argument and secured an outcome that did not result in a ban for the Defendant.

Book BarristerBack to top

Personal Injury

Kate has experience of representing claimants and defendants at civil applications, Infant Settlement Hearings, MOJ Stage 3 hearings and Small Claims where liability and/or quantum is in dispute. Kate regularly appears in cases involving disputes over credit hire. Kate is also frequently instructed to advise on quantum in personal injury cases involving children and protected parties.

Kate regularly appears for claimants and defendants in Fast Track trials.

Under the supervision of Joseph O'Brien, Kate has advised on quantum, liability and contributory negligence in cases involving serious crush injuries and brain injuries.

Prior to pupillage, Kate was employed by a multi-national law firm where she handled fast track occupiers liability claims. Kate also assisted with multi-track occupiers liability, public liability and road traffic accident claims.

Book BarristerBack to top