Adil Navaid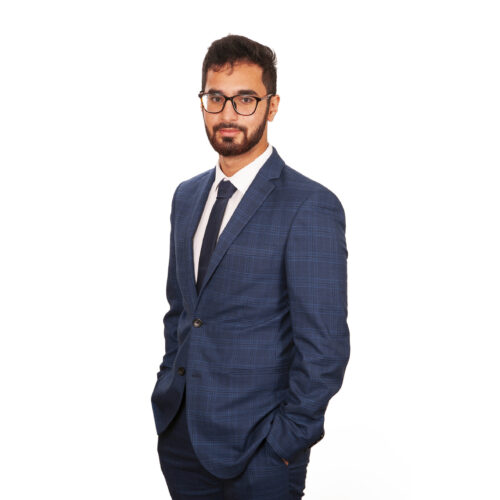 Adil is a specialist commercial barrister who joined chambers as a tenant in November 2022 following the successful completion of his pupillage under the supervision of Daniel Metcalfe. He has a broad commercial practice incorporating various specialisms including contractual disputes, property and land disputes, landlord and tenant claims and consumer rights. He consistently is instructed to advise on such matters as well as draft pleadings on the same. Adil also has a growing practice in public law and judicial review.
Adil prides himself on his communication with clients and ensures that they are kept informed at all stages of litigation. He provides tactical advice to both lay and corporate clients whilst keeping their commercial interests at the forefront. However, where cases progress to court, Adil is meticulous and creative in his arguments.
Adil is adept at witness handling, both in conference and court, and his ability to navigate sensitive hearings both for and against litigants-in-person has been praised by judges and opponents. He has also been praised for his submission advocacy and the ability to navigate complex situations.
Before commencing pupillage, Adil participated in various national and international mooting competitions and was highly ranked consistently. Adil also worked with victims of human trafficking through the award-winning Liverpool Law Clinic Anti-Human Trafficking project in 2019-2020. He managed case files as well as translated for Urdu-speaking clients.
Education
LLM, BPP University (2021)
BTC, BPP University (2021)
LLB, First Class Hons, University of Liverpool (2020)
Memberships
Lincoln's Inn
Northern Circuit
Expertise
Banking, Finance and Insolvency
Company and Commercial
Data and Information Law
Property and Private Client
Public / Administrative
Banking, Finance and Insolvency

Adil has been instructed by both banks and consumers for consumer credit and mis-selling cases. Adil has regularly appeared both at trial and at dispute resolution hearings on PPI mis-selling claims and has been praised particularly on his arguments relating to compromise and settlement. Adil has advised and defended on claims relating to guarantees and security and is thorough in his research on the same.

Adil recently assisted David Berkley KC and Steven McGarry on a multi-million-pound fraud case in the High Court and in an application for an urgent freezing injunction.

Book BarristerBack to top

Company and Commercial

Through his pupillage with Daniel Metcalfe, Adil was exposed to a wide range of commercial cases, and benefits from Daniel's breadth of knowledge. Adil regularly advises on, drafts pleadings for and appears at trials on various contractual disputes such as on the supply of goods and services, agency, construction and misrepresentation, and is thorough in his exploration of potential causes of actions to ensure his client has the best chances of success. Adil is also regularly instructed on data protection and privacy cases and is pragmatic in his approach to such a developing area of law.

Adil has a growing practice in shareholder disputes, partnership disputes, directions' disqualifications and defamation.

Adil has attended on urgent injunction hearings and was praised for successfully applying for the continuation of an injunction despite the client not having fulfilled its undertaking to the court. He enjoys time-pressured and difficult situations. In addition to this, Adil recently assisted David Berkely KC and Steven McGarry in an application for an urgent freezing injunction on a multi-million pound fraud case.

Book BarristerBack to top

Data and Information Law

Adil is regularly instructed on data protection and privacy cases and is well-versed in GDPR and DPA compliance. Adil provides advice to litigants who may have a claim in such areas with a realistic view of the damages they are likely to recover. This is a rapidly developing area of law and Adil keeps up-to-date with the novel arguments being put forward and is reasonably ambitious in his arguments where there is a good argument to be run.

Book BarristerBack to top

Property and Private Client

Adil has a broad practice in and regularly advises on landlord and tenant cases and provides clarity to clients in an often-complex area of law. Adil has advised on business tenancies, residential tenancies, disrepair claims, service charge disputes, boundary disputes, housing claims, covenants, property trusts and proprietary estoppel, construction cases, possession claims, adverse possession, wills and probate and Inheritance Act claims.

Adil has dealt with numerous possessions claims on both mandatory and discretionary grounds. He is alive to issues that may affect even mandatory claims, such as bankruptcy and breathing space policies, and has successfully manoeuvred around last-minute attempts to avoid possession claims by opponents in the past.

Adil has advised clients in relation to property trusts, wills and probate claims and is looking to grow his practice in this area. He has significant knowledge in this area of law and has had the benefit of working alongside Elis Gomer and learning from his expertise. Adil has been praised for how he deals with clients in these often emotionally-charged proceedings and is adept at handling sensitive conversations.

Adil is currently appearing in an appeal regarding a boundary dispute between neighbours, including issues such as restrictive covenants and easements.

Book BarristerBack to top

Public / Administrative

Adil recently assisted Joseph O'Brien KC on a judicial review matter relating to a harbour authority ordinance and has been praised in his ability to navigate a complex limitation argument and forensic research on the substantial merits.

Adil also recently advised on a matter relating to a resident being charged under the wrong tax bracket due to an error by the local council in allocating a tax bracket.

Adil is keen to grow his public law practice with a special focus on constitutional matters. He achieved a distinction in his dissertation on constitutional law and has specialist knowledge on such matters.

Book BarristerBack to top