"Thomas's skills are second to none, he secures excellent results, and he is well-liked by clients due to his down-to-earth nature."

Legal 500, 2024
Strengths: "Tom is efficient and excellent with clients."

"Tom has a wealth of knowledge and experience, and uses his analytical mindset to identify and focus on the important issues. He is clear and concise with his drafting, and a very good advocate."

"Tom is our go-to person for complex employment law issues."

Chambers UK Bar, 2024
Tom Wood is a rising star at the Northern employment Bar. He frequently appears in the Employment Tribunal, representing both claimants and respondents in TUPE, disability discrimination, and whistle-blowing cases.
Tom is a true employment and discrimination specialist, known for his technical expertise and ability to tackle the most complex cases across a variety of fields. His practice focuses on the commercial sector, and with increasing emphasis on the education and care sectors.
Tom qualified as a solicitor in 2008 and has experience acting for both claimants and respondents equally. Throughout his career, Tom has been instructed to act and advise both for and against some of the largest organisations in the country, often in complicated or high-value claims and across a variety of fields with emphasis on the commercial sector.
As a former solicitor, Tom understands the value and assistance of early involvement of counsel, and is happy to advise and assist at any stage of a case.
Tom's book 'A Practical Guide to the Law in Relation to Menopause and Perimenopause in the Workplace' is available to buy on Law Brief Publishing and on Amazon.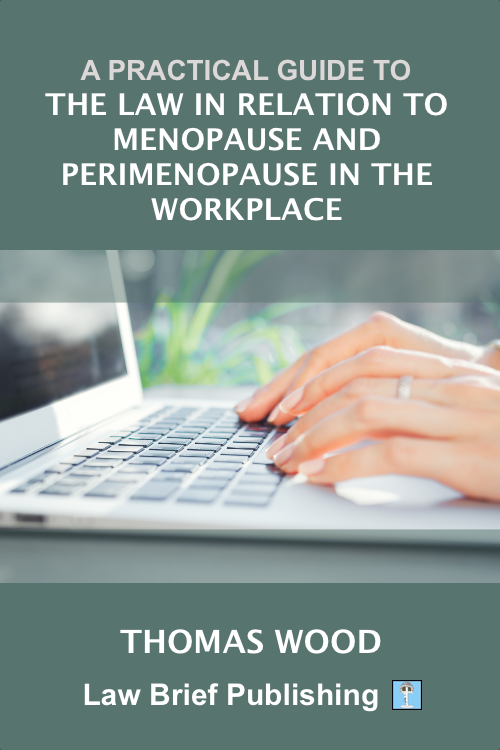 Tom is accredited to receive instructions directly from members of the public through the Public Access Scheme.
Click here to view our Public Access pages and details of the process for instructing public access accredited barristers.
Employment
Tom has particular experience in whistleblowing, TUPE and discrimination (in particular disability and pregnancy discrimination) claims, although he is accomplished in all areas of employment law.
Tom regularly appears in the employment tribunals and has experience in the Employment Appeal Tribunal where he undertakes written work and advocacy.
Recent Cases
Successfully represented global logistics solutions company at five-day trial defending claims of unfair dismissal, age, race, and sex discrimination.  Although the claimant was based in the UK at the time of the complaints, the case was dismissed on the basis of territorial jurisdiction, and would otherwise have been dismissed on the facts. The judgment is available here.
Acted for solicitor in claim against former employer, a firm of solicitors, concerning Covid safety and returning to work. Five-day trial involved health and safety detriment, indirect discrimination, and constructive dismissal.
Acted for disabled social worker in discrimination and whistleblowing claim. Case settled for six-figure sum on first day of five-day trial.
Acted for a large national security company in victimisation, whistleblowing detriment, automatic and ordinary unfair dismissal claims. Claimant withdrew all but his ordinary unfair dismissal claim after cross-examination. Although unfair dismissal claim succeeded, compensation was reduced by half.
Successfully represented international religious organisation (UK region) in three-day unfair dismissal claim brought by former pastor alleged to have conducted services contrary to church doctrine. Read the judgment here.
Acted for respondent hairdressing salon in successfully defending age and sex discrimination claims where claimant was offered money for new clothes. The case was reported in the

Daily Mirror

and the

Daily Mail

. The judgment is

available here

.
Successfully represented 'transferee' employer contesting the application of TUPE at a four-day preliminary hearing in £300,000 claim brought by 18 claimants.
Represented a multi-academy trust in 10-day trial of whistleblowing detriment, sex and race discrimination, and unfair constructive dismissal claims. Read the judgment here.
Successfully represented a sports governing body in a claim, taking place over a five-day trial, relating to the employment status of the Head Coach of numerous national squads.
Successfully represented a former managing director in a three-day unfair dismissal claim (which included a whistleblowing claim) against the UK business of a global manufacturer. Read the judgment here.
Acted in a 'landmark' case on the employment status of a hairdresser, which was reported nationally on the BBC, the 'I' and the Daily Mail, and locally in the Manchester Evening News. The case is also referenced in the IDS Employment Law Handbook on Contracts of Employment.
Represented one of the largest food producers in the country in successfully defeating all claims (six) brought by a disabled former employee arising from premises relocation. Read the judgment here.
Acted for global software analytics company in six-figure disability discrimination claim brought by former Vice President of Sales.
Acted for one of the country's largest combined further and higher education providers at three-day unfair redundancy and age discrimination trial. Read the judgment here.
Represented claimant at five-day trial against national charity in claim for failure to make reasonable adjustments for complex trauma disability, harassment, and discriminatory redundancy dismissal.
Successfully represented national tyre-fitting outfit at five-day trial of six-figure whistleblowing claim brought by former CEO. Read the

judgment here

.
Represented successful claimant in four-day whistleblowing detriment/unfair dismissal claim.  The claimant was awarded £31,000, which included aggravated damages of £10,000. Read the

judgment here

.
Successfully represented a multi-academy trust in an unfair dismissal claim whose final hearing took place over six days. You can read the judgment here.
Represented a housing association in its successful defence, after a five-day final hearing, of unfair dismissal, disability and age discrimination claims. Read the judgment here.
Represented both a local authority and national charity in a two-day preliminary hearing concerned with the application of TUPE to two claimants. The tribunal agreed that TUPE did not apply.
Represented respondent fast-food outlet in four-day whistleblowing (health and safety) detriment and constructive dismissal claim and acted in claimant's subsequent appeal to the EAT.
Conducted appeal to the EAT on behalf of a claimant in relation to the application of ss.114 and 117 Employment Rights Act 1996 where former employer required repayment of balance of ex gratia sum on reinstatement.
Represented claimant in four-day trial claiming whistleblowing relating to presence of cocaine on children's nursery premises. The case was covered by the 

Manchester Evening News

.
Discrimination Work
Tom uses his experience in discrimination claims to undertake civil disputes in the County and High Court where the Equality Act is engaged. He advises and represents individuals, businesses and social housing providers to bring or defend claims for discrimination.
Recent Cases
Acted for shop customer in disability discrimination claim following his 'removal' from a store where he was accompanied by his son but, in so being, breached the store's social distancing policy of a maximum number of customers.
Acted for leisure centre in defending breastfeeding discrimination in which summary judgment was awarded in favour of the defendant. The claim was reported in the 

Daily Mail

 after it had been issued.
Memberships
Employment Lawyers' Association
Legal Directory Recommendations
Strengths: "Tom Wood's knowledge of the details of the case is impressive, and his advocacy style is persuasive and steady." "He's excellent with complex matters and excellent with clients too." Chambers UK Bar 2023
"Thomas has a fantastic eye for detail; he just excels at making complex issues simple to handle and his ability to process large volumes of information quickly is second to none too. He also has a very reassuring manner with clients and he's one of the very best employment law advocates and a go-to expert for tricky issues and complex advocacy in employment law." Legal 500 2023
"I have found Thomas' manner with clients and instructing solicitors to be exceptional. He pays close attention to the case, quickly gets to grips with the key issues and focuses on identifying a way to win." "He has put our client's cases forward most diligently and obtained very good results for us. He is particularly good at getting to the heart of the issue even if the other side insists on focusing on irrelevancies, which means that he can lead judges to the important evidence and key documents." Chambers UK Bar 2022 – Up and Coming
"Thomas has a very calm and measured approach to case conferences and working with clients to put them at ease but also ensuring he gets the facts and fundamentals of any case clearly set out and understood to provide the clearest advice." Legal 500 2022 – Rising Star
"He is really fast and very thorough in his advice." Chambers UK Bar 2021 – Up and Coming
"Incredibly smart, practical and down to earth with clients. A lovely wit that helped lighten the often tense atmosphere whilst waiting at tribunal! Excellent client care skills and builds trust from the moment of meeting. Highly recommended." Legal 500 2021 – Rising Star