Jamie Jenkins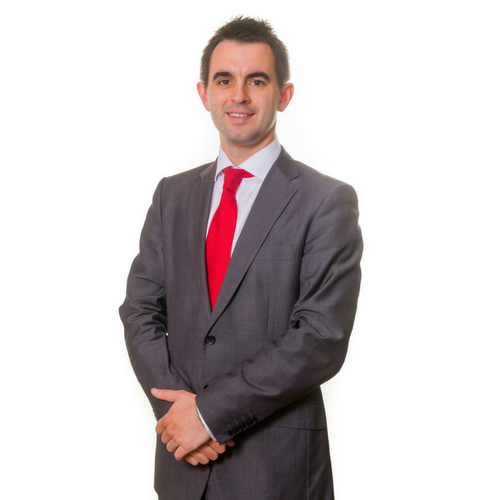 Email: clerk@stjohnsbuildings.co.uk
Phone: 01244 323 070
Year of call: 2008
Book Barrister
Download Details
Jamie read law and obtained an LLM in Commercial Law at the University of Sheffield. He was called to the Bar by Middle Temple in 2008 having been awarded the Campbell Foster prize by the Inn for his performance on the BVC.
Jamie enjoys a busy civil practice, focusing on Employment and Commercial Law. He also has expanding practices in Education Law and Sports Law.
Jamie is qualified in Direct Access work, and is trained and qualified in conducting litigation. He is happy to receive instructions in each of his areas of specialism.
"Recommended for discrimination cases." Legal 500 2019
Expertise
Employment
Company and Commercial
Fraud - Civil
Education
Sport, Media and Entertainment Law
Public Access
Employment

Jamie acts for both Claimants and Respondents in a wide range of employment tribunal cases, advising clients at all stages from initial negotiations through to the final hearing and, if necessary, to appeal. Jamie is frequently instructed on cases that involve issues of unfair dismissal, breach of contract, discrimination, redundancy, whistleblowing and restrictive covenants.

Jamie has acted for a range of major national companies, as well as other notable employers including a Premier League Football Club. In 2017 he was appointed to the NPS Wales Panel of approved counsel, and is regularly instructed by local authorities.

Jamie's recent and current work undertaken includes:

Discrimination

Jamie has a specific interest and particular experience in dealing with discrimination cases, both in an employment context and in relation to the provision of services, and regularly provides training on new developments in the area of discrimination.

Jamie has acted for a range of employers and service providers in discrimination cases including major national companies, local authorities, hotels, airports, and a Premier League Football Club.

His recent experience of discrimination cases includes:

Currently representing a Premier League Football Club in relation to age discrimination claims brought by former directors
Successfully representing an HGV driver who was dismissed due to the side effects caused by his diabetes medication
Successfully representing a care home that had been accused of constructive dismissal and race discrimination by a former employee
Successfully representing an employee of a major supermarket chain who was found to have a disability by reason of his low IQ
Representing an employee of a marketing company who claimed that she was taunted by her colleagues for reasons relating to her mental disability
Successfully representing a teacher who claimed that her disability had contributed to her committing an act of gross misconduct that resulted in her dismissal.

Redundancy

Currently representing the managing director of a provider of medical services who was dismissed due to an alleged sham redundancy
Representing a charity in claims brought by former employees following extensive redundancies
Representing a recruitment agency in a claim brought after redundancies following a company wide restructure
Successfully representing an employee who was made redundant from a global insurance company.

Restrictive Covenants

Advising a recruitment agency in relation to a former employer that had allegedly solicited clients in breach of a restrictive covenant
Representing two employees who were accused of soliciting clients from a company specialising in high value mobile phone contracts.

Unfair Dismissal

Representing a local authority in an unfair dismissal case where a senior female manager was dismissed for sexually assaulting a male employee
Representing a former DWP employee who claimed constructive dismissal arising out of the unilateral amendments to her working hours
Representing a senior manager of an NHS Trust who was found to have been unfairly dismissed when the correct capability procedures were not followed. 

Whistleblowing

Successfully representing a charity accused of dismissing an employee due to protected disclosures following the attempted suicide of a client
Representing a nursing home in a claim for whistleblowing detriment brought by a former employee following disclosures made about the home's treatment of residents
Advising a student mentor who was allegedly dismissed from an employed role with a university after making protected disclosures about the university's failure to pay the minimum wage.

Book BarristerBack to top

Company and Commercial

Jamie has a Masters in Commercial Law and brings that expertise to a broad commercial practice encompassing areas that overlap with other aspects of his practice as well as distinct areas of commercial litigation. His practice primarily focuses on contractual disputes, including the sale of goods and supply of services, construction and insurance.

Jamie is also regularly instructed on commercial and company law matters that involve tort, misrepresentation and fraud. He has experience in dealing with substantive issues in such cases as well as interim hearings including injunctions, interim payments and security for costs.

Examples of work undertaken includes:

Breach of Contract

Advising a Premier League Football Club in potential claims for breach of contract intimated by former employees
Representing a solicitor's firm in relation to a six figure claim brought by an ATE provider for breach of contract
Representing a local authority in a breach of contract claim brought by a teacher alleging that he should be paid whilst off sick because his sickness was caused by the build up of mould in his classroom
Advising the owners of a number of student properties in claims against the properties' managing agent, who had retained extensive rent payments in breach of contract
Advising and representing a former company director in relation to a substantial claim brought by a bank under a personal guarantee.

Construction

Representing a construction company in a claim for non payment of project management fees following the renovation of a hotel
Representing the owners of a residential property in a complex contractual dispute following the installation of a biomass boiler
Representing the owners of a home in a claim following the alleged faulty installation of a driveway which caused toxic fumes to seep into the property
Representing the owners of a property which had been left structurally unsound and threatened the integrity of an adjoining property following the faulty installation of bay windows.

Consumer Law

Advising a client in relation to an £80,000 claim against Land Rover alleging misrepresentation of the sale of two new vehicles
Advising a client in relation to a claim against a car dealership after he purchased a second hand prestige sports car that was subsequently shown to be unroadworthy and worth less than one quarter of what was paid for it
Representing a hotel in relation to a claim brought by two customers who claim they were refused a room due to their traveller ethnic origin
Representing Manchester Airport in a claim brought by a disabled passenger alleging discriminatory treatment.

Professional Negligence

Advising a solicitor's firm in relation to a claim brought by a former client who alleged that he had under settled his claim due to inaccurate advice
Advising a solicitor's firm in relation to a claim by a client whose claim was discontinued without their knowledge
Representing a freelance photographer in a claim against a solicitor's firm who settled his claim for less than 10% of its true value.

Book BarristerBack to top

Fraud - Civil

Jamie has a particular interest in cases involving allegations of fraud and dishonesty, including claims based on misrepresentation, conversion, trespass to goods, financial mis-selling and restitution.

Jamie also has experience dealing with applications and proceedings relating to contempt of court under CPR 81 including providing advice, drafting pleadings, and representing parties at the trial of such matters.

Jamie's recent experience includes:

Representing the Respondent in an application to commit him to prison for contempt of court following the discontinuance of a personal injury claim
Representing the owner of a car dealership in a claim brought by a finance company in conversion following the dishonest dealings of a third party
Advising a client in relation to the sale of a caravan where it transpired that the caravan had been previously stolen
Representing a client in a claim against a removal company following the theft of her property during a house move
Advising a client in relation to an £80,000 claim against Land Rover alleging misrepresentation of the sale of two new vehicles.

Book BarristerBack to top

Education

Jamie regularly represents local authorities, employees and others in cases related to the education sector, including in cases involving employment, discrimination and breach of contract, but also has a growing practice in the area of education law. Jamie is direct access qualified and is available to act for parents and local authorities in a range of education cases including:

Admission and exclusion appeals in front of independent panels
Appeals to the Special Educational Needs and Disability Tribunal ('SEND' Tribunal) concerning EHC assessments and/or exclusions
Upper Tribunal appeals arising from decisions of the SEND Tribunal
Advice and representation regarding judicial review
Issues in transitioning SEN students to EHC assessments
Cases involving further and higher education.

Book BarristerBack to top

Sport, Media and Entertainment Law

Jamie regularly uses his expertise in other areas in a sports, media and entertainment law context, most notably in relation to his employment law and commercial law experience.

Jamie's recent experience includes assisting the sellers of Premier League football club in completing their due diligence, and he is currently representing a Premier League football club in relation to claims in breach of contract and age discrimination made by two former directors.

Book BarristerBack to top

Public Access

Jamie is accredited to receive instructions directly from members of the public through the Public Access Scheme.

Click here to view our Public Access pages and details of the process for instructing public access accredited barristers.

Book BarristerBack to top