Thomas Sherrington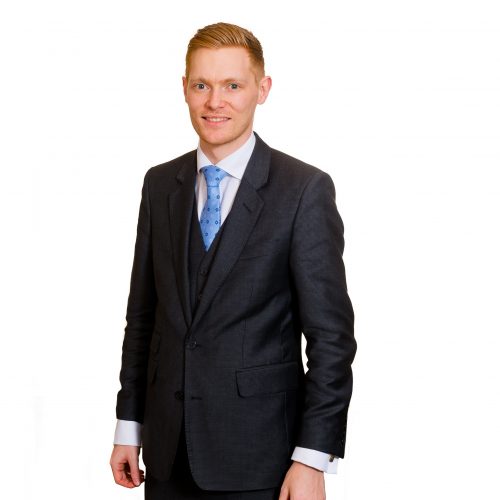 "Thomas has a sharp intellect that cuts to the core issues on every matter. His courtroom presence exhibits an ability to advance forceful and compelling arguments." Legal 500 2023, Rising Star
Thomas graduated from the University of Nottingham with a BA in Politics before studying the Graduate Diploma in Law and the BPTC at Nottingham Law School.
Thomas regularly acts in all types of criminal cases in the High Court, Crown Court and Magistrates' Court.
He has a burgeoning Regulatory practice, with experience dealing with Traffic Safety Regulations, Animal Welfare matters and Prison law. He actively seeks instructions in relation to Inquests.
Having begun his legal career at a leading firm of Personal Injury solicitors, he is happy to advise on all such matters.
Memberships
Northern Circuit
Associate Lecturer at Manchester Metropolitan University
Legal Directory Recommendations
"Thomas is a bright star who continues to shine in an area of law where we need more young people coming through. Thomas has a confidence and style that makes clients instantly trust and have confidence in him. His style of advocacy is both effective and efficient, his written legal arguments are always persuasive and well researched. He is hard working, enthusiastic and effective." Legal 500 2022, Rising Star
Expertise
Crime

Thomas represents clients in the Magistrates', Youth and Crown Courts and has a keen interest in developing his practice involving young and vulnerable witnesses and defendants. He is a CPS Level 1 prosecutor. Thomas is regularly instructed to deal with the most serious of offences including sexual offences, drug offences and violent offences.

Court of Appeal

Thomas has been successful in the Court of Appeal on a number of matters.

Reported Cases

R v Daniel Patrick Flanagan [2020] EWCA Crim 1117:  The Appellant successfully argued that his sentence for False Imprisonment was manifestly excessive. The case reiterated the requirement for the court to consider the length of time of the imprisonment, the level of injury if any and the extent of imprisonment when considering sentencing.

This case will appear in the 2021 update of Blackstone's Criminal Practice

R v Thomas Taylor – (Awaiting citation): The Appellant successfully appealed the imposition of an immediate custodial sentence. That sentence was quashed and replaced by a suspended sentence resulting in the immediate release of the Appellant.

Youth/Vulnerable Defendants

R v BM (2020): Thomas was instructed to represent a youth in the Crown Court charged with Causing Grievous Bodily Harm with Intent. After a successful opposition to an extension of Custody Time Limits, the charge was reduced to a lesser offence and the case was remitted back to the Youth Court for sentence due to the offence no longer being deemed a "grave crime".

R v BL (2018): Thomas was instructed to represent a 14-year-old boy in Care who was charged with sexual offences against his younger sister. He was sentenced to a 12-month Referral Order with his Care placement to remain.

R v JH (2017): Thomas was instructed to represent a 13-year-old defendant who suffered from Asperger's syndrome and was charged with multiple counts of serious sexual offences against a family member. He was sentenced to a 12-month Referral Order.

Thomas has successfully completed the Bar Council Vulnerable Witness Advocacy Training.

Violent Offences

Thomas is regularly instructed to defend matters involving violent crime.

R v AA (2019): Successfully prosecuted a member of the "Boy Better Know" music group for assaulting Prison Officers in HMP Manchester.

R v PL (2019): Successfully represented a prisoner who had pleaded guilty under threat of death to possessing prohibited articles in Prison. When his plea was vacated, he was then charged with Perverting the Course of Justice. After an abuse of process argument was drafted, the Prosecution offered no evidence on the matter.

R v SP (2018): Prosecuted a woman who was found guilty of criminal damage after claiming she was acting in self defence when she attacked her ex-husband's Mercedes with a golf club. The case was covered in the Manchester Evening News and The Metro.

R v AM (2016): Successful acquittal on legal grounds following an allegation of harassment. Successfully submitted that the alleged course of conduct had not been made out.

R v KB (2017): Successful acquittal following a submission of no case to answer involving a several allegations of assault by the partner of the Defendant.

R v CD (2017): Successful acquittal following a submission of no case to answer involving a bar fight where the Prosecution had charged multiple defendants incorrectly.

Sexual Offences

Thomas is regularly instructed to represent individuals charged with the most serious of sexual offences.

Notable Cases

R v RO (2021): Defended a man charged with the historic rape of a child under 13. The case was the first at Minshull St to utilise a section 28 recorded cross-examination during a trial. The defendent was acquitted unanimously.

R v AH (2020): Thomas was instructed as Junior to represent a man charged with several counts of Rape and Sexual Assault against a former partner. On reviewing 18,000 pages of messages between the pair by Thomas and his leader, the Prosecution were persuaded to offer no evidence against the Defendant.

R v JL (2018): Successful appeal against conviction of a man who had previously been found guilty of indecent exposure. A five-year Sexual Harm Prevention Order was revoked. The case was covered in the Mail and the News & Star.

Road Traffic

Thomas regularly accepts instructions in private road traffic cases, including Exceptional Hardship applications and Special Reasons Hearings. He has particular experience in defending drug and drink driving cases.

Thomas has experience in defending taxi licensing hearings and appeals.

R v DA (2018): Defended a man who admitted causing serious injury by Dangerous Driving and crashing a modified rally car. He received a 12-month suspended sentence.

R v GR (2016): Successfully defended a young driver who was charged with Careless Driving which had caused an accident and injury.

Book BarristerBack to top

Inquests

Thomas has shadowed an assistant coroner while conducting an inquest and plans to develop this area of his practice. He has prepared the following report for the case of R (Chidlow) v HM Senior Coroner For Blackpool & Fylde [2019] EWHC 581 (Admin) (12/3/19). You can read it here. 

He has been involved in jury inquests involving the deaths of prisoners in custody.

Thomas has previously been a Judicial Shadow to the Senior Coroner of Manchester wherein he gained invaluable experience of inquests from the Coroner's perspective.





Book BarristerBack to top

Regulatory

Thomas is developing his regulatory practice and is able to combine both his criminal and civil experience when instructed on such matters.

Thomas regularly appears for companies such as British Telecom in proceedings for alleged breaches of Road Traffic Safety Regulations, prosecuted by the Local Authority.

He has also recently been instructed on Animal Welfare matters.

Cumbria County Council v British Telecom (Montgomery Way) (2019): Represented BT who pleaded guilty to breaches of road safety regulations. The matter can be read about here: https://bit.ly/2Ig5IMT.

Secretary of State for Business v Paula Carson (2019) EWHC: Represented the Defendant in Committal Proceedings in the High Court when a company director breached her undertakings and was in Contempt of Court. Despite admitting 85 separate offences, the director received a 4-month suspended sentence. The matter can be read about here: https://bit.ly/2IcVM6J.

Book BarristerBack to top