Siraj Ahmed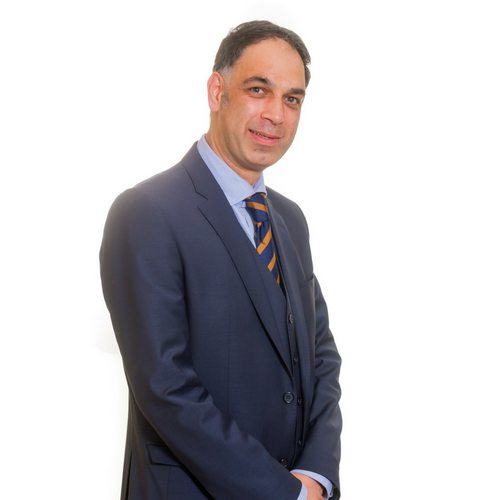 Siraj was an associate partner with a leading firm of solicitors for a number of years, before being called to the Bar in 2001. His first hand experience of working in business means that Siraj is particularly well-attuned to the needs of business/commercial clients, whether corporate bodies or individuals.
Well-known for his approachability, Siraj has additional expertise in mediation.
He is registered with the Bar Council to undertake Public Access work and is able to receive instructions directly from lay clients, as well as those on the traditional professional client basis.
Siraj is a fluent speaker of Gujarati, Hindi and Urdu.
Seminars /Training
Siraj is a regular speaker at seminars, providing in-house lectures and training seminars to law firms and law students at local law colleges.
Membership of Professional bodies
Association of Personal Injury Lawyers (APIL)
Professional Negligence Bar Association
North Western Circuit
Bar Council List of Barrister Mediators
Bar Council List of Direct Access Barristers
Expertise
Personal Injury
Catastrophic Injury 
Inquests
Clinical Negligence
Disease
Company and Commercial
Property and Private Client
Sport, Media and Entertainment Law
Employment
Professional Negligence
ADR and Mediation
Public Access
Personal Injury

Siraj undertakes all aspects of personal injury work. He is regularly instructed in employers' liability cases, occupiers' liability, road traffic litigation including fraud and LVI claims and local authority claims, for Claimants and Defendants in multi-track and fast track claims before the County Courts, High Courts, and on appeals at the Court of Appeal.

Fraudulent Claims

In the field of road traffic accidents he is instructed for Claimants and Defendants in alleged fraudulent claims involving either single or multiple parties; he was junior counsel for the Claimant in the leading Court of Appeal authority re the significance of medical records and the quality of evidence required to establish fraud in civil courts. Siraj has also regularly successfully challenged at trial the reliability and cogency of data taken from telematics devices fitted to vehicles, often relied upon by insurers as conclusive evidence of their case of fraud.

Sports Injuries

As part of his work with sports clubs/centres and local teams, as well as acting for individual sports persons in their business management issues, Siraj has successfully acted for them in claims including claims arising from injuries sustained either during training where either the facilities or the training methods pose a foreseeable risk, or injuries sustained during the game.

CICA Claims

He is instructed by solicitors and under the Bar Council Direct Access provisions by individual clients in CICA claims (to cut down on costs). One recent example includes representing a lady who suffered serious facial and psychological injuries when she was stalked and then kicked and beaten by her ex-partner. Siraj will provide support and advice on the criteria, evidence, procedure and help in completing the form(s), as well as representation at any hearing.

Book BarristerBack to top

Catastrophic Injury 

Siraj is regularly instructed in catastrophic injury, serious road traffic accident, fatal accident and other high value claims for both Claimants and Defendants.

Examples of substantial cases involving claims valued in excess of £1M include acting for mother and her (then) unborn child involved in a serious car crash, leaving baby with serious brain injuries and mother in a persistent vegetative state; six-figure claims for serious accidents at work requiring lifetime care and assistance, loss of earnings/opportunities. He has successfully defended a client on a claim in excess of £750k brought by her partially blind brother who was knocked down whilst crossing a road; it was alleged he ought not to have been permitted to alight her vehicle and cross over on his own due to his disability.

Other examples include defending a claim by the estate of a lady killed in a car crash on the motorway; acting for a client who, following a fall in an open manhole, had developed chronic regional pain syndrome and psychological symptoms.

Siraj is always open to explore and advise clients on alternative means of settlement to avoid the expense and stress of litigation/trial, and as part of this he is regularly instructed to act for clients at joint settlement meetings (accommodated at chambers or elsewhere).

Although catastrophic injuries form a core part of his workload, Siraj is regularly instructed to act for Claimants and Defendants on fast track claims and (non-catastrophic) multi-track claims and his involvement begins at the very outset, with regular advice on merits, quantum, procedure and tactics.

And he is instructed in claims arising from accidents at work, public/occupier liability claims, and all the other different types of personal injury matters.

Book BarristerBack to top

Inquests

Siraj is instructed by clients on Inquests held with or without a jury. At a recent Inquest hearing he represented the only UK family member of an overseas student in London who suffered death by electrocution caused by an exposed electrical unit in a take-away kitchen. This was followed by a claim on behalf of the Claimant's parents (resident overseas) under the FAA 1976.

Book BarristerBack to top

Clinical Negligence

Over the years, Siraj has dealt with a wide variety of claims for Claimants and Defendants.

Examples include claims against an SHO in A&E whose failure promptly to diagnose a subarachnoid haemorrhage led the Claimant to suffer severe brain damage; claim on behalf of the estate of a patient who had attended a hospital for pre-arranged routine knee replacement surgery and the aftercare led to her death. He has also successfully acted for a young lady who, whilst attending her local hospital for a routine dialysis session, contracted a serious strain of the Staphylococcus Aureus bacteria – and then the experts failed to make a prompt diagnosis – resulting in the patient being in "deep sleep" coma and close to death. She was hospitalised elsewhere for over 12 months and left with permanent disabilities.
Other clinical negligence cases include claims against an optician who failed to advise of the risk of (and give appropriate spectacles to guard against) exposure to direct sunlight after eye surgery, resulting in severe vision problems; and claim against an obstetrician for exerted excessive traction during a forceps delivery causing shoulder distocia and damage to the brachial plexus of the infant Claimant; and a GP who failed to give appropriate medication to a diabetic client resulting in amputation of her toe.

Again, Siraj has acted for claimants and Defendants and represents clients at trial, but he has successfully achieved resolution of many contentious matters through the ADR processes (at joint settlements meetings and mediation).

Book BarristerBack to top

Disease

Much of Siraj's work arises out of occupational or insidious diseases such as noise-induced hearing loss, asbestos-related illness, asthma, Legionnaires' disease, workplace stress, hand/arm vibration syndrome and work-related upper limb disorders. He advises on the evidence required, legal issues (especially on Limitation), as well as representing clients at trial which often includes cross examination of expert medical experts and engineers.

Book BarristerBack to top

Company and Commercial

With notable business experience, Siraj is frequently instructed in a range of business, company and commercial matters. He acts for sole traders, small and medium-sized businesses and corporations in the UK, as well as companies based overseas. Siraj can assist in drafting documents as well as acting as an advocate on your behalf in courts, tribunals, arbitrations, mediations and any other situation where you are permitted to have someone speak on your behalf such as disciplinary proceedings. He can also draft representations and applications to relevant bodies such as the UKBA and specialist tribunals.

Siraj is highly sought after by many local accountancy firms to act for their clients on issues including shareholder remedies, directors' duties, partnerships, bankruptcy.

Siraj is at hand to advise on the legal aspects of the general operations of the business and is frequently instructed by corporate clients as early as in the negotiation stages in relation to acquisitions of, and/or mergers with, other businesses. For businesses he can draft contracts, applications, standard terms and conditions, partnership deeds, share agreements and other documents for business purposes.

Construction Disputes

Siraj has significant experience in advising and representing parties in disputes concerning defective workmanship, contract price, penalty clauses and professional negligence. In particular, he frequently works on cases where clients have already parted with substantial funds.

Book BarristerBack to top

Property and Private Client

Siraj advises and represents parties in disputes concerning defective workmanship, contract price, penalty clauses and professional negligence.

Recent examples include acting for a doctor with a young family who was told the extension and refurbishment work on her house was complete (and full payment was made) only for her to discover extensive structural work had not been done but was signed off by the structural engineer/inspector.

Another involved acting for the owner of an old country barn who suffered shoddy workmanship.

Appreciating one is acting in such cases for clients who have often already parted with substantial funds, Siraj will always explore alternatives means of dispute resolution (in particular, mediation); and is open to discuss entering into a conditional fee agreement in appropriate cases.

Book BarristerBack to top

Sport, Media and Entertainment Law

As a solicitor and someone keen on sports, Siraj acted for individual footballers and clubs, especially in respect of player/staff contracts, working with agents/representatives and, where appropriate, dealing with applications for work permits for overseas players. He has a keen interest in the field and has continued this work in an advisory capacity at the Bar, as well as representing individuals at disciplinary hearings.

Book BarristerBack to top

Employment

Siraj finds his employment instructions come from a range of business clients, sports workers and individual contacts who seek to have clear advice in business and company related matters and, where appropriate, to represent them at the Tribunal. Siraj takes instructions on behalf of employees as well as employers.

Siraj can assist in all areas of employment work, but with particular interest in claims involving:

• Unfair Dismissal
• All forms of discrimination claims; Disability, Race, Sex, Age, Sexual Orientation and Religious
• Restrictive Covenants, Confidential Information and Garden Leave
• Executive Contracts and Wrongful Dismissal
• Industrial Action (including negotiations/mediation with Union representatives)
• Claims to disputed bonuses and disputes as to the construction of share option schemes and pension schemes

Book BarristerBack to top

Professional Negligence

Siraj is instructed (by Claimants and Defendants) on various areas of professional negligence to include solicitors' negligence, claims against Architects, Civil/Structural engineers and other professionals. Recent examples include a claim against a solicitor for failing to advise a charity as to the extent of the title to land they were about to purchase which resulted in substantial losses; a claim.

Book BarristerBack to top

ADR and Mediation

Siraj is a skilled arbitrator/mediator which complements his direct (public) access work, offering the individual client as well as the business and professional community the opportunity to tackle and resolve many disputes more quickly and efficiently through alternative dispute resolution methods (in particular, mediation), which often mean potentially significant savings in terms of costs, time, disruption of business, and the emotional energy of traditional litigation. He is instructed to mediate in all forms of commercial and civil disputes, including disputes between business partners; companies/directors; doctors practices/pharmacy chains; disputes in the construction industry; franchisor/franchisees; and also workplace mediation.

Recent examples include successfully mediating what had been a protracted land dispute between two neighbours; and resolution of a dispute between a franchisor and franchisee which involved allegations and counter-allegations of breach of the franchise agreement.

In addition to mediating a dispute, he is also appointed in cases as a mediator Advocate to represent one or the other participants in the mediation process.

And the mediation meeting can be accommodated at chambers or at a venue convenient to all participants.

Book BarristerBack to top

Public Access

Siraj is accredited to receive instructions directly from members of the public through the Public Access Scheme.

Click here to view our Public Access pages and details of the process for instructing public access accredited barristers.

Book BarristerBack to top