Rebecca Carr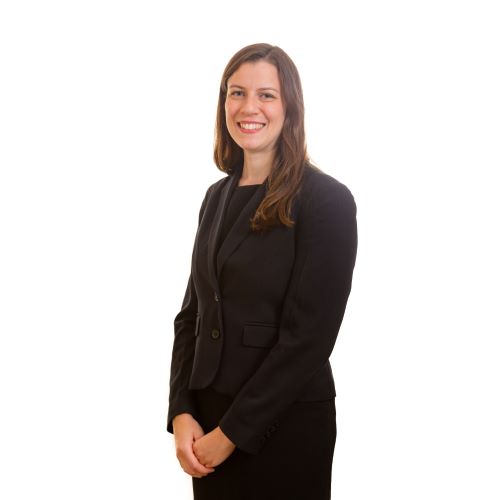 Rebecca joined Chambers as a tenant in October 2020 following the successful completion of her pupillage under the supervision of  Nicola Quinney.
Prior to the Bar, Rebecca worked as a public law caseworker in a leading judicial review team where she gained significant experience at conducting civil litigation (including judicial review and false imprisonment claims) and immigration cases (asylum, trafficking, deportation and bail matters).
Rebecca graduated with a degree in law from the London School of Economics and Political Science, she was awarded a master's degree in law from the University of Toronto and she achieved an 'Outstanding' grade on the Bar Professional Training Course.
Expertise
Family - Children
Court of Protection
Public / Administrative
Personal Injury
Crime
Inquests
Family - Children

Rebecca gained significant experience in public law family proceedings during pupillage under Nicola Quinney, observing and attending interim removal hearings, case management hearings, issues resolution hearings, finding of fact hearings and final hearings in relation to all types of child public law proceedings.

Rebecca is able to act on behalf of all parties in public law proceedings and is able to draft case summaries, detailed threshold documents, and skeleton arguments where required.

Rebecca also has experience at dealing with applications for leave to invoke the inherent jurisdiction of the High Court for child Deprivation of Liberty Orders. Rebecca is happy to advise local authorities on the preparation of such cases.

Rebecca is able to provide training to local authorities on request.

Book BarristerBack to top

Court of Protection

Rebecca gained experience in Court of Protection litigation during pupillage, observing cases on behalf of all parties in health and welfare matters.

Rebecca has experience in attending directions hearings and drafting grounds for challenges to capacity and best interest decisions under Section 21A Mental Capacity Act 2005. Rebecca regularly drafts detailed statements of facts and grounds on behalf of applicants including those instructed by the Official Solicitor, and is happy to advise on case issues and evidence from an early stage.

Rebecca is keen to develop her Court of Protection practice and is able to provide training to local authorities and other organisations on request.

Book BarristerBack to top

Public / Administrative

Prior to the Bar Rebecca worked as a Law Society accredited Senior Immigration Caseworker within Duncan Lewis Solicitors' public law team. Rebecca gained significant expertise at conducting civil litigation in areas of immigration, asylum and public law, regularly conducting advocacy before the First tier Tribunal at immigration bail hearings including for individuals with complex immigration histories and backgrounds of serious criminality. Rebecca has also worked on a variety of applications for judicial review before the Upper Tribunal and Administrative Court, including urgent applications for interim relief to challenge removal directions, as well as unlawful detention and fresh claim refusal matters. Rebecca's work in this area led to her being named 'paralegal of the year' at the 2019 Modern Law Awards.

Rebecca is keen to maintain her passion for public law immigration work while at the Bar, and is available to conduct hearings in the First tier Tribunal including immigration bail and asylum appeals. Rebecca is also available to provide advices and to draft grounds for judicial review in areas of immigration law.

Rebecca is also a volunteer for Bail for Immigration Detainees.

Book BarristerBack to top

Personal Injury

Rebecca accepts instructions in all areas of personal injury work, including attending trials on issues of liability and quantum, infant approval hearings and MOJ stage 3 cases under the RTA protocol.

Rebecca is also able to provide written advices on liability and quantum. Prior to the Bar, Rebecca regularly dealt with progressing multi-track false imprisonment claims for individuals detained by the Home Office in Immigration Removal Centres and is able to provide advice on potential claims in this area also.

Book BarristerBack to top

Crime

Rebecca accepts instructions in all aspects of criminal proceedings. She regularly conducts trials in the Magistrates Court in relation to prosecutions and probation breach proceedings. She also has experience at appearing in the Crown Court in appeal conviction, bail, sentence and probation breach matters.

Rebecca is a Level 1 CPS Prosecutor.

Book BarristerBack to top

Inquests

During pupillage Rebecca gained insight into coronial law, attending final inquest hearings and is keen to develop experience in this area.

Book BarristerBack to top