Emmanuel Coniah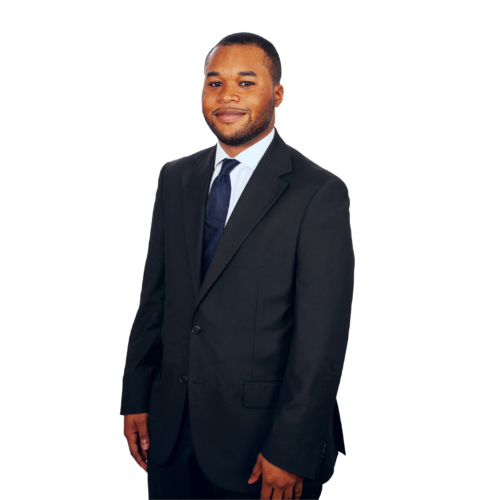 Emmanuel joined chambers as a tenant in October 2022 following the successful completion of his pupillage under the supervision of Ben Lawrence and David James.
Emmanuel prosecutes and defends across the full spectrum of criminal offences in the Crown Court, Magistrates' Court and Youth Court. He is regularly instructed in cases involving violence, sexual offences, dishonesty offences and road traffic offences.
Emmanuel is frequently instructed to defend in a wide range of road traffic matters which include drink driving, drug driving, speeding, careless driving and failing to provide a specimen. He has helped clients avoid disqualification by successfully advancing exceptional hardship arguments in the Magistrates' Court.
Alongside his criminal practice, Emmanuel has a growing regulatory and coronial law practice.
Prior to commencing pupillage Emmanuel worked as a criminal defence paralegal at GT Stewart Solicitors where he prepared and managed Magistrates' Court and Crown Court cases. He also worked as a Crown Court paralegal for the Crown Prosecution Service, where he assisted prosecution witnesses and counsel at court. Following his well-rounded experience in criminal law, Emmanuel brings to cases an in-depth understanding of the criminal justice system, which ensures that clients can be advised about all stages in criminal proceedings.
Emmanuel also worked as a County Court Advocate with LPC Law. He appeared for claimants in return of goods, bankruptcy, landlord and tenant, mortgage possession and infant settlement approval hearings.
Alongside studying for the BPTC, Emmanuel volunteered with Immigration Tribunal Friends, where he assisted litigants in person with their asylum and immigration appeals. He also volunteered as an Advice Team caseworker at the Coventry Refugee & Migrant Centre.
EDUCATION
LLM, BPP University (Distinction)
BPTC, BPP University (Very Competent)
LLB, Coventry University (2:1)
SCHOLARSHIPS AND PRIZES
Exhibition Award, Inner Temple (2018)
Duke of Edinburgh Entrance Award, Inner Temple (2018)
Clothier Scholarship, Inner Temple (2018)
Advocacy Award, BPP University (2018)
Winner of the Inner Temple Pepperdine Moot (2019)
MEMBERSHIPS
The Honourable Society of the Inner Temple
Northern Circuit
Association of Regulatory and Disciplinary Lawyers
Expertise
Crime

Emmanuel prosecutes and defends across the full spectrum of criminal offences in the Crown Court, Magistrates' Court and Youth Court. He is regularly instructed in cases involving violence, sexual offences, dishonesty offences and road traffic offences.

RECENT CASES

R v AE & others (ongoing): Junior defence counsel in a multi-handed fraud trial.

R v BW (ongoing): Instructed in a Crown Court dwelling burglary trial.

R v LH: Secured acquittal after trial of a defendant charged with criminal damage that was captured on CCTV. The defendant was a man of good character.

R v AH: Sexual assault trial concerning two complainants.

R v YU: ABH and three charges of assault by beating domestic violence trial.

R v CG & MH: Assault by beating multi-handed trial involving youth complainants.

R v GC: Represented at sentence a defendant charged with possession with intent to supply Class A drugs.

R v RB: Knifepoint robbery sentence.

R v C: Successfully defended against the imposition of a Football Banning Order for a defendant who assaulted two football stewards at a Premier League football match.

R v LW: Successfully persuaded the court to suspend the sentence of imprisonment imposed for an assault against a police officer.

R v M: Appeal against conviction and sentence for a charge of assault on an emergency worker.

R v CW: Appeal against conviction for driving whilst disqualified. The issue in this case was identification.

ROAD TRAFFIC

R v SH: Successfully appealed a conviction for failing to provide driver details.

R v L: Successfully argued exceptional hardship for a Defendant who required his vehicle to travel across England and Wales for work.

R v B: Successfully argued exceptional hardship for a veterinary surgeon.

R v RA: Successfully argued exceptional hardship for a student nurse who needed his licence to get to work and university placements across the country.

R v PA: Successfully persuaded the court to impose a fine rather than a custodial sentence for a charge of failing to provide a specimen where the offence fell into the highest category in the sentencing guidelines.

Book BarristerBack to top

Regulatory

Emmanuel accepts instructions across a broad range of regulatory matters, including professional discipline and regulatory prosecutions. Emmanuel is particularly interested in CQC and OFSTED appeals. During his pupillage, Emmanuel completed training in Chambers on advising and conducting appeals against OFSTED and CQC decisions.

RECENT CASES

LCC v MH (ongoing): Representing a company facing multiple fire safety offences contrary to Regulatory Reform (Fire Safety) Order 2005.

BBC v IM: Represented a defendant at trial charged with selling dogs without a licence.

R v MM: Successfully persuaded the court not to impose a Dog Destruction Order.

Cumbria Constabulary v LP: Successfully represented Cumbria Constabulary in a DVPO application.

NMC v KT: Represented a nurse who faced sexual allegations at an interim order hearing.

Book BarristerBack to top

Inquests

Emmanuel has a growing coronial law practice. He acts for families and interested persons.

Inquest touching upon the death of DM: Represented NWP in a two-week inquest into the death of a woman in her home which had been set on fire.

Emmanuel recently appeared for the family at the pre-inquest review of a health and safety-related death.

Book BarristerBack to top