Archna Dawar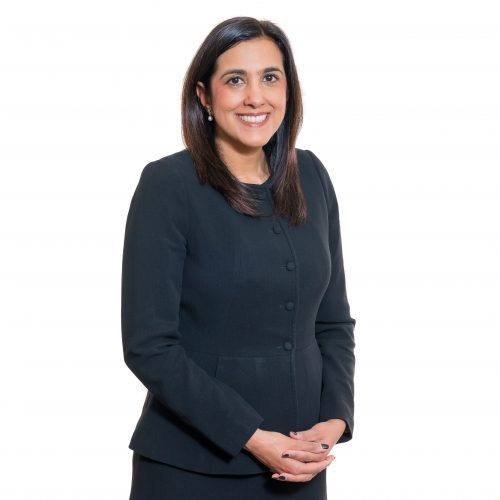 Specialises in matrimonial finance work and has a solid reputation for advising on cross-cultural issues. She often takes on disputes where trusts, properties and land and pension assets are at stake.

Strengths: "Archna Dawar is really an all-rounder, good on both children and finance law. She's got a good manner with clients, they really warm to her. Archna is just very understanding of their priorities and their concerns." "Archna is an all-round excellent barrister with impressive advocacy." Chambers UK Bar 2023

"Archna is a thoroughly impressive barrister. Her oral submissions are of the highest quality and turn of phrase helps to provide the strength and clarity to the arguments advanced. An attention to detail allows for the case to be presented and managed in a client focused way." Legal 500 2023

"Archna has excellent attention to detail and an in-depth knowledge of technical issues. Her client care is second to none, the client always feels as if they are in very safe hands and she is personable and approachable to the client but formidable as an opponent." Legal 500 2023
Archna is a Family: Finance specialist. After spending 15 years working in all aspects of family law, Archna now specialises in matrimonial finance, cohabitation disputes and private law children cases. Archna is a senior member of the Matrimonial Finance team, dealing primarily with high value cases. She has extensive experience of complex issues including farming, pensions, companies and trusts.
In addition, she undertakes complex private law cases.
Archna is a fighter, approachable and pragmatic in her approach. She has a particular interest and experience in cases with clients from different ethnic backgrounds. She can conduct conferences in Hindi.
Appointments
Recorder, Midlands Circuit
LEGAL DIRECTORY RECOMMENDATIONS
Strengths: "She's extremely thorough in her preparation. She has very sound legal knowledge accompanied by practical and logical reasoning." "Her attention to detail is excellent. She is very flexible and her client care is outstanding." Chambers UK Bar 2022
"Exceptionally thorough and always very well prepared. She has an unmatched ability to breakdown and simplify complex matters into a digestible format which is exceptionally persuasive in the court room." Legal 500 2022
Strengths: "She is always well prepared and her written work is exceptional." "She has the ability to distil issues clearly and simplify complex issues for the client in a way that is readily understood." Chambers UK Bar 2021
"An absolute star of the circuit. Always well-prepared and meticulous with the detail. Clients appreciate her personable and down to earth approach. A supremely confident advocate both in relation to private children law and financial remedy." Legal 500 2021
"She is sharp, focused and has a calm approach to children's cases, which puts clients at ease and achieves great results." "Archna has a lovely manner with clients and is well prepared for all cases." Chambers UK Bar 2020
"Offers innovative solutions in the most complex of cases." Legal 500 2020
"Very bright and personable. A delight to work with." "She has good attention to detail and can take on large amounts on information very quickly. She is a very competent advocate and strong procedurally." Chambers UK Bar 2019
"Handles complicated children matters as well as high-value financial remedy work, and has a solid reputation for advising on cross-cultural issues. She is experienced at taking on cases concerning cohabitation and property division. She also works on relocation and surrogacy matters. 'Very bright and personable. A delight to work with.' 'She has good attention to detail and can take on large amounts of information very quickly. She is a very competent advocate and strong procedurally.'" Chambers UK Bar 2019
"She is skilled in offering innovative solutions to complex cases." Legal 500 2018
"An excellent advocate, who is always thoroughly prepared." "She is very easy to work as she is very responsive, very personable and great with clients. She is pragmatic in her advice." Chambers UK Bar 2018
"She puts emotional clients at ease." Legal 500 2017
"Really great for children work." '"Her ability to absorb vast quantities of information in a short time is very impressive. She gets to the nub of the case quickly and she is equally as good on children cases as she is on finance cases." Chambers UK Bar 2017
"She shows an impressive ability of getting to the crux of the matter and is a delight to work with." Legal 500 2016
"She is equally brilliant with finance and children work, which is not a common trait. She has a wonderful manner with clients and a great ability to make them feel at ease in conference. She is an excellent advocate on her feet in court and has obtained some good outcomes. Her drafting is very good and leaves no stone unturned. She is my preference and my barrister of choice." Chambers UK Bar 2016
"Recommended" Legal 500 2011
Expertise
Family - Finance
Family - Children
Family - Finance

Archna undertakes work in high value and complex cases financial remedy cases. She is regularly instructed at an early stage in order to assist with the smooth running of a case in particular on issues involving third party disputes over the ownership of property, trusts and disclosure. She is happy to give advice prior to the issue of proceedings to advise on the best approach in cases to try and reduce costs.

Archna has a particular speciality in:

Matrimonial cases typically involving high assets, business related issues including company valuation and liquidity, and also trusts, pensions and third party claims/interests.
Complex cohabitation cases. Archna is regularly instructed for interveners in financial remedy cases when issues on ownership of properties arise.

Book BarristerBack to top

Family - Children

PRIVATE LAW

Archna practices in private law children cases with a particular speciality in:

Removal from the Jurisdiction.
Dealing with applications for child arrangement order involving parents entrenched in a bitter battle over their children. Features of cases include parental alienation, implacable hostility, physical abuse, sexual abuse and domestic violence.

Book BarristerBack to top