Alexandra Carrier – Pupil Barrister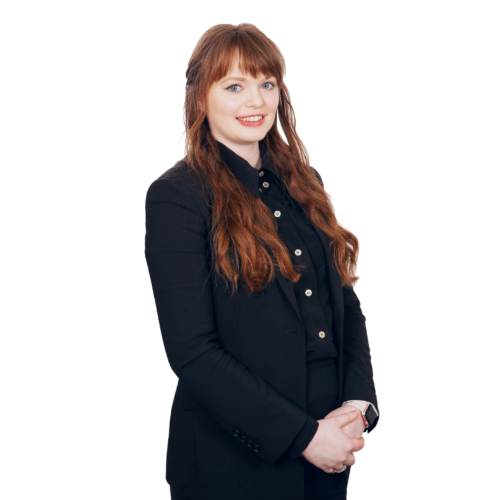 Alexa joined St John's Buildings in October 2021 to begin her pupillage. She is supervised by Debra White for crime and and Neil Christian for family law. Prior to beginning pupillage, Alexa specialised in Forensic Mental Health, working in a mental health unit, predominantly working with personality disorders. Alexa has also worked for the police, appearing in the Magistrates courts on behalf of the police in bail variation hearings, and co-compiling the force response to the Independent Inquiry into Child Sexual Abuse (IICSA).
During her first six, Alexa spent time observing serious crime trials in the Crown Court, including rape and murder trials. Alexa also observed, among others, Placement Order final hearings in the Family Court.
Since beginning her second six, Alexa appears in the Crown Court and the Magistrates Court defending and prosecuting in both courts. Alexa has defended in dangerous driving cases, Public Order cases and ABH cases. Alexa has prosecuted hearings in cases of grievous bodily harm, drug charges and indecent images of children cases, amongst others. Alexa appears in hearings in the Family Court, in public law cases such as in a revocation of a Placement Order on behalf of the Local Authority, and private law cases, such as non-molestation order hearings.
EDUCATION
BSc (Psychology), University of Lincoln
MSc (Forensic Mental Health), King's College London
GDL, BPP
LLM, City Law School
Bar Professional Training Course, City Law School
MEMBERSHIPS
Inner Temple
Criminal Bar Association
Family Law Bar Association
Expertise
Crime

Alexa appears in the Crown Court and the Magistrates Court, defending and prosecuting in both courts.

NOTABLE CASES

R v D (2022): Defended a dangerous driver at sentence, successfully mitigated for a suspended sentence. The case was covered in the Shropshire Star.

R v H (2022): Prosecuted a sex offender at sentence who was given an immediate custodial term. The case was covered in the Daily Post.

R v S (2022): Prosecuted at sentence a defendant guilty of assault by beating and breach of a restraining order, resulting in a sentence of 2 years and 3 months in custody. The case was covered in the Daily Post.

R v H (2022): Prosecuted a dangerous driver at sentence, who received a suspended custodial sentence.

Book BarristerBack to top

Family - Children

Alexa appears in hearings in the Family Court, in public law cases such as in a revocation of a Placement Order on behalf of the Local Authority, and private law cases, such as non-molestation order hearings.

NOTABLE CASES

W v C&C (2022): Represented a Local Authority in proceedings regarding the revocation of a placement order.

R v R (2022): Acted for an applicant in a non-molestation hearing, successfully securing a non-molestation order.

S v R (2022): Acted for a respondent, where the applicant sought a non-molestation order, respondent made undertakings to the court and a non-molestation order was not made.

J v J&J (2022): Acted for a respondent in a final hearing for a Child Arrangements Order.

H v J (2022): Acted for a respondent in an interim hearing determining contact and specific issues.

W v D (2022): Acted for an applicant in an interim hearing deciding on issue of contact.

W v W (2022): Represented an applicant and an FHDRA effective as a final hearing as successful negotiation for child contact was accomplished.

Book BarristerBack to top