LEGAL 500 RANKINGS 2022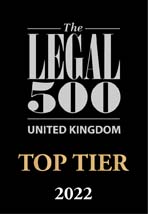 St John's Buildings is delighted to have 67 listings across 17 different practice areas in the 2022 edition of the Legal 500.
The edition, published this year but looking forward to 2022, sees the number of practice areas we are listed in grow and represents the strength of our advocacy across many areas of law.
Chief Executive Chris Ronan said:
"We are very pleased to be recognised as a leading set across a significant number of our practice areas and that many of our barristers are regarded as experts in their field of law. We are especially grateful to be listed in new areas for SJB such as 'IT, Telecoms and Data Protection', and to have such positive comments from our clients about not only our barristers, but the strength of our clerking team too."
Some of the more notable comments for individual barristers include:
ADMINSTRATIVE AND PUBLIC LAW: Lorraine Cavanagh QC 'Extremely tenacious and hard-working. '
BUSINESS AND REGULATORY CRIME: David Pojur  'David's knowledge is second-to-none, he is excellent at drafting legal arguments and written representations on behalf of clients. '
CHANCERY, PROBATE AND TAX: Elis Gomer 'Elis is a real team player who commits himself absolutely to the case and client. His genuine enthusiasm for his Chancery and contentious probate practice shines through in his technical excellence, and he really is outstanding on his feet. '
CLINICAL NEGLIGENCE: Richard Norton  'Richard is highly experienced and is able to put clients at ease, including vulnerable and distressed clients. Clear and methodical, Richard is able to get to the heart of a case and advice is forensic and incisive. '
COURT OF PROTECTION AND COMMUNITY CARE: Lucinda France-Hayhurst  'Lucinda is very approachable and she ensures that instructing solicitors are always debriefed following every hearing. '
CRIME: Richard Thyne  ' Richard has an excellent knowledge of the law and excels as an advocate in court. He is very friendly and approachable. '
EMPLOYMENT: Jason Searle 'Always well-prepared, excellent with clients and tactically very savvy. '
FAMILY AND CHILDREN LAW: Frances Heaton QC 'Excellent client care with the lay client. Insightful and thorough grasp of the issues in the case. Articulate and tenacious. '
FAMILY – DIVORCE AND FINANCIAL REMEDY: Samantha Hillas QC  'Samantha is a ferocious advocate who will go to the edge of the earth and back for her clients. '
INQUESTS AND INQUIRIES: Laura Nash  'Laura's knowledge of coronial law is exceptional and her role as an assistant coroner provides a helpful insight into the tactics and strategies to be adopted when robustly defending the client's position. '
IT, TELECOMS AND DATA PROTECTION: Aaminah Khan ' Strong in advice, pleadings and at hearings. Technically very astute whilst also able to convey complex law and application to lay clients. '
PERSONAL INJURY: Sufiyan Rana 'Meticulous and attentive to detail. Willing to go above and beyond and makes you feel confident that you have a high-quality barrister on your side. '
PLANNING AND ENVIRONMENT: David Pojur  'David's knowledge is second to none, he is excellent at drafting legal arguments and written representations on behalf of clients. '
See the complete rankings by visiting the Legal 500 website.