LEGAL 500 RANKINGS 2021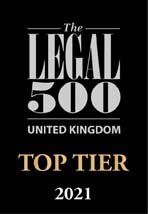 St John's Buildings is delighted to announce that more than a quarter of our members are ranked as leaders in their chosen field of law in the 2021 edition of the Legal 500.
The edition, published in 2020 but looking forward, sees 68 members of Chambers listed, across 16 different practice areas. This represents significant progress and clearly shows the strength of our advocacy.
Chief Executive Chris Ronan said: "It is very pleasing to see such a significant number of our barristers being recognised as experts in their field of law. It's especially rewarding to be listed in new areas for SJB including Education, Professional Discipline and Business and Regulatory Crime. These are areas in which we have had clear expertise for a number of years and it is excellent to see our barristers receive this reward for their exceptional work and commitment.
We have also seen five members ranked as Rising Stars which confirms the quality of our up and coming junior barristers. The listings are clear testament to our strength in depth and continued investment in our barristers and staff."
Some of the more notable comments for individual barristers include:
ADMINSTRATIVE AND PUBLIC LAW: Lorraine Cavanagh QC 'Lorraine is a real powerhouse. Dynamic, persuasive and with a laser-like focus on achieving the best outcome for the client.'
BUSINESS AND REGULATORY CRIME: David Pojur 'He is friendly, approachable and relatable with clients, who hold him in great regard. He commands great respect amongst his peers and those he finds himself before. He is intelligent and clear in his communications and lively on his feet.'
CHANCERY, PROBATE AND TAX: Elis Gomer 'Elis is my major go to on all things property (chancery) related, probate and trusts. He is incredibly astute, and always gives robust advice whilst remaining utterly charming throughout.'
CLINICAL NEGLIGENCE: Richard Norton 'Bright, experienced, thorough and pleasure to work with'
COMMERCIAL LITIGATION: Pepin Aslett 'He is a formidable advocate and very skilled on his feet. His professionalism is second to none and having worked very closely with Pepin on heavy matters his ability to understand every detail of a complex case is very impressive.'
COURT OF PROTECTION AND COMMUNITY CARE: Joseph O'Brien 'The barrister that you love to have on your side and you hate to see acting on the other side. His advocacy, particularly cross examination, is unsurpassed by any other barrister but his written work, knowledge of the law and ability to see the picture are also key strengths.'
CRIME: Richard Thyne 'His style as an affable yet exceedingly acute advocate warms him to jurors, and ensures he retains the concentration and attention of the courtroom, even in the most lengthy and complex trials.'
EDUCATION: Jamie Jenkins 'Jamie is a superb advocate and has extensive knowledge in employment and in particular discrimination. His drafting is concise, clear and to the point. He is also fantastic with clients. I have dealt with him recently in a particularly sensitive case and he was fantastic.'
EMPLOYMENT: Thomas Wood – Rising Star – 'Incredibly smart, practical and down to earth with clients. A lovely wit that helped lighten the often tense atmosphere whilst waiting at tribunal! Excellent client care skills and builds trust from the moment of meeting. Highly recommended.'
FAMILY AND CHILDREN LAW: Frances Heaton QC 'She is a joy to instruct. She is an excellent advocate who has the ability to quickly get to grips with the most complex of cases focusing on the salient points whilst at the same time ensuring the client is at ease and the judiciary is with her.'
FAMILY – DIVORCE AND FINANCIAL REMEDY: Samantha Hillas QC 'Very detailed knowledge and understanding of family finance law and ability to make incisive points, focusing on the key issues. Excellent judgement and a persuasive advocate. Works with opponents to achieve settlements where possible but not afraid of robust advocacy when necessary.'
INQUESTS AND INQUIRIES: Simon Murray 'Simon is an excellent barrister. He is articulate, has an excellent approach with instructing solicitors, clients and witnesses, and is clearly well respected by coroners. He is confident, very knowledgeable and reliable.'
PERSONAL INJURY: Daniel Frieze 'Robust and confident. Able to assimilate all facts quickly. Adaptable as the situation requires. Persuasive.'
PLANNING AND ENVIRONMENT: David Pojur 'Mr Pojur's advocacy skills are well tuned and he is respected by colleagues and well thought of by members of the Judiciary he appears before. He has excellent communication and interpersonal skills when dealing with clients, and he demonstrates a high level of commitment to clients.'
PROFESSIONAL DISCIPLINARY LAW: Ghazan Mahmood 'His strengths is his attention to detail and being able to find novel ways of resolving issues.'
PROPERTY AND CONSTRUCTION: Philip Byrne 'Analytical and incredibly detailed in his assessment of a matter, but also commercially astute, Philip adds more than other barristers can offer. He is excellent and affable with clients but direct when he needs to be without losing their trust. Good on his feet and introduces new lines of approach which others are unlikely to consider.'
See the complete rankings by visiting the Legal 500 website.