Pupillage
Current Vacancies
Third Six Pupillage: Crime, Sheffield
Third Six Pupillage: Family, Liverpool
Third Six Pupillage: Family, Chester
We view Pupillage as the prime way of developing a range of high calibre tenants who will ensure the continued success of Chambers into the future. Chambers makes a considerable investment in its pupils and most pupils become valued tenants.
We interview both law and non-law graduates and look for:
Intellectual and analytical ability
Written communication and advocacy
Oral communication and advocacy
Understanding of the law and legal practice
Demonstration of the attributes required to support a successful career at the Bar.
We expect applicants to have a 2:1 degree classification, however we will consider applicants who do not meet this criteria in extenuating circumstances and/or where exceptional qualities are present and where comparable knowledge and potential is demonstrated in the application and at interview. This is provided that the qualifications and experience will meet the requirements of the Academic Component of Bar training.
During the first six months of pupillage a grant of £15,000 is made to all pupils and during the second six months there is an earnings guarantee of £25,000.
We are recruiting pupils in line with the Pupillage Gateway timetable for 2021/22 to commence pupillage in October 2022.
For more details about pupillage at St John's Buildings, download a copy of our Pupillage Guide November 2022.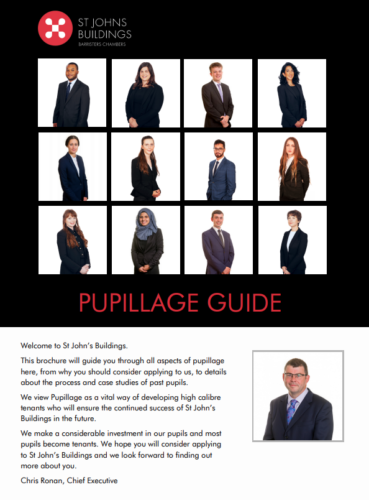 Case Studies
A selection of case studies from some of our previous pupils.
Mini-pupillages
Due to the Covid-19 pandemic and the control measures in place at various court centres, providing mini-pupillage opportunities has been extremely challenging, making mini-pupillages ineffective as a learning and assessment tool. This was not in keeping with the quality of opportunity we expect to deliver to candidates. As a result, we cancelled our Summer programme. With the ongoing relaxation of control measures we expect a full programme to be available in 2023 and will be advertising our Easter 2023 programme in January 2023. Please keep an eye on this website for more information.
St John's Buildings is an equal opportunities employer. We will consider any reasonable adjustments necessary to facilitate applications from a diverse pool of applicants.
One of the country's leading Chambers, St John's Buildings is divided into six principal practice groups (crime and regulatory, personal injury & clinical negligence, family, public & administrative, employment and commercial) with other developing specialisations such as Court of Protection, regulatory and travel law. Our full specialism breakdown is available on our website at www.stjohnsbuildings.co.uk/expertise.