Sufiyan Rana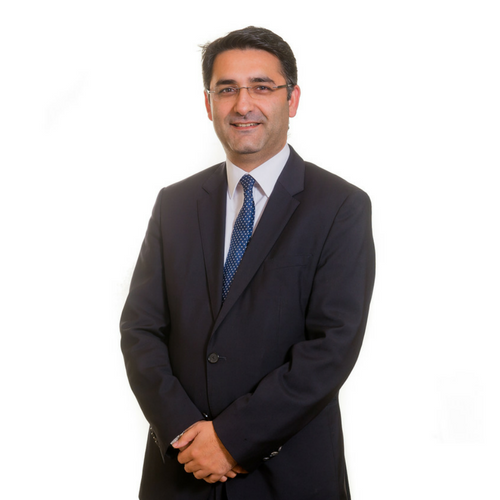 " Recommended for brain and spinal injury cases" The Legal 500 2019

"Approachable, eloquent and direct." The Legal 500 2017
Sufiyan specialises in Personal Injury, focussing particularly on catastrophic injuries, clinical negligence, disease and inquests. He acts for Claimants and Defendants. He is also an Accredited Mediator.
Sufiyan has practised as a Solicitor Advocate in Personal Injury and is therefore uniquely placed to understand the pressures of litigation. He has also been a part-time lecturer and is currently a visiting Advocacy Tutor at MMU for the BPTC.
Away from chambers, Sufiyan is a 1st Dan in Shotokan Karate and enjoys travelling, writing and cricket. He is fluent in Urdu and Punjabi.
Follow Sufiyan on Twitter: @sufiyanrana
Memberships
PIBA
Inquest Lawyers Group
Appointments
Deputy District Judge (Civil) – Northern Circuit
Fee-Paid Judge of the First Tier Tribunal (HESC – Mental Health)
Expertise
Personal Injury
Catastrophic Injury 
Inquests
Clinical Negligence
Disease
ADR and Mediation
Personal Injury

Sufiyan has extensive experience in Personal Injury and is regularly instructed in high value, catastrophic claims with the value regularly exceeding £1 million. He has been led by Senior Counsel on a number of occasions and is accustomed to dealing with head and spinal injury claims, fatality claims, complex conferences involving multiple experts, drafting high value schedules, conducting JSMs, preparing approval advices and hearings, and preparing detailed Part 35 questions. He is happy to provide pre-hearing advice and regularly acts in cost budgeting and case management conferences (CCMC), applications for relief, surveillance evidence, specific disclosure, strike out, summary judgment. He is happy to provide training for Solicitors having previously provided training on S.69 Enterprise Regulatory and Reform Act 2013, the importance of witness statements, MIB claims, cost budgeting and update in litigation.

Recent notable Cases

Iftimie v J Rosenthal & Sons Limited (2019)

Instructed by the Claimant who sustained a traumatic left patella dislocation at work that required a MPFL ligament reconstruction with a substantial period of rehabilitation, soft tissue injuries to the lumbar spine and a prolonged bout of a depressive disorder.  Despite the surgery being moderately successful, she continued to complain of pain and required the assistance of a pain management expert who diagnosed chronic pain syndrome. She was unable to work for 3 years, of which only half of which was attributable to the accident, and was left with some disadvantage in the labour market. Given the issues surrounding causation, the case settled for £125,000.

Re: JT (PR of estate of MK) (2019)

Instructed by the Claimant to act for the estate of MK following his death. The claim involved an exacerbation of a pre-existing Chronic obstructive pulmonary disease (COPD) resulting in a reduced life expectancy and failure to provide care and assistance to his wife for whom he was the main carer. The damages included a bereavement award, past care and assistance, dependency of services and futures (following Lowe v Guise 2001 EWCA Civ 197).

Re: CT – (2017) – On going.

The Claimant, a professional rugby league player, had to retire as a result of spinal injuries caused following an unsafe training drill. The claim is for pain, suffering and loss of amenities and future loss of earnings.

Meadows v La Tasca [2016] EW Misc B28 (CC) (16 June 2016) – His Honour Judge Hodge QC sitting at Manchester CC.

At first instance, the Claimant's claim was dismissed and found to be 'fundamentally dishonest' depriving her of protection under Qualified One Way Cost Shifting (QOCS) under CPR 44.13 and causing the costs order to be enforceable against her. The appeal succeeded on the basis that the District Judge was wrong to have concluded the claim was fundamentally dishonest on account of the various inconsistencies and should have limited himself to finding the Claimant had failed to prove her claim.  The Claimant was awarded costs.

Chinnock & Schumann v Veale Wasbrough & Rea [2015] EWCA Civ 441. Longmore LJ, Jackson LJ, Roth J.

Led by Michael Redfern QC. Claimant's action against Defendant law firm and Barrister for Professional Negligence emanating from an underlying wrongful birth claim.

McIntosh v World – Central London CC (on appeal from Uxbridge CC) (2014) – His Honour Judge Mitchell sitting at Central London CC.

Claimant failed to exchange statements in time. Court refused relief and struck out claim on the basis that it was not a trivial breach and there was no good reason for it (Mitchell followed). Succeeded on appeal as District Judge had failed to consider all the circumstances (Denton followed).

Shenton –v- Shenton (2014)

Represented the Claimant in a crushing injury where she sustained a pelvic fracture and haematoma and seroma (Morel-Lavalle lesions to both hips and thighs).  Drafted detailed statement and a lengthy schedule.

Chinnock & Schuman v Rea & Veale Vasborough [2013] EWHC 3730 (QB): Dingemans J.

Led by Michael Redfern QC. Claimant's action against Defendant law firm and Barrister for Professional Negligence emanating from an underlying wrongful birth claim. Case heard by Court of Appeal in March 2015 (see above).

Road Traffic Claims/Credit Hire

Sufiyan has considerable experience in this area and regularly acts for Claimants and Defendants. He is very familiar with arguments relating to period, rate, need, impecuniosity, BHR, mitigation and consumer credit act terms for both regulated and non-regulated agreements, as well as if, and how, the absence of a particular term may affect its enforceability, e.g. Cancellation of contracts made in a consumer's home or place of work regulation.

Recent cases

McDowell v Burke (2018) Liverpool CC – HHJ Gregory

Acted for the Defendant in defence of a large claim for credit hire. Successfully debarred the Claimant from relying on impecuniosity resulting in a settlement based on Defendant's BHR report.

Drinkwater v A Rhodes Ltd and Mannpower Ltd – (2018) Civil Justice Centre, Manchester – HHJ Evans

Acted for the Claimant in a two-day trial where liability between the two Defendants was disputed.

Northover v Advantage Insurance (2018) Burnley CC

Acted for the Defendant to defend a malicious claim brought against its policyholder.

Book BarristerBack to top

Catastrophic Injury 

Re: AR (2018)

The Claimant suffered a serious injury to her right wrist that was identified as an undisplaced fracture of the dominant radial styloid requiring five operative procedures, an arthrodesis, an insertion and subsequent removal of the Schecker prosthesis followed by a further wrist fusion. She also developed severe knee symptoms which represents a case of acceleration of 5-10 years. Sufiyan previously acted for the Claimant at the successful liability trial.

Re SB (by his wife and litigation friend) (2018)

Junior Counsel to the Claimant who sustained a severe head injury, left sided frontal sub arachnoid haemorrhage, right side intraventricular haemorrhage, bilateral pulmonary contusions, lacerations to face/ lip and suspected dislocated shoulder. The schedule of loss included past care for the claimant and his wife, accommodation, future care, equipment, therapies, transport, travel, deputy costs, and was in excess of £6 million.

Re: Anne Roberts (2018)

The Claimant sustained a fracture of the right femur which was treated surgically with a dynamic hip screw. She remained in the high dependency unit for approximately 4 days and in the hospital for approximately 2 weeks. She was barely able to mobilise during this time and at the time of discharge, some two weeks later, was struggling to mobilise using a Zimmer frame. The schedule was in excess of £150,000.

Re: Marek Podsiadly (2018) – JSM resulting in a settlement of £350,000

Junior Counsel to the Claimant who sustained a moderately severe traumatic brain injury with contusions and haemorrhage with encephalomalacia in the left inferior front lobe leading to the presentation of a dysexecutive syndrome, with problems in planning, abstract thinking, flexibility, and behavioural control.

Re: ASM (by his sister and litigation friend AK) (2017) – JSM resulting in a settlement of £3 million. Approved by His Honour Judge Platts sitting at Manchester CC.

Junior Counsel for the Claimant, who sustained severe brain injury and polytrauma with traumatic subdural haematoma on the surface of the brain and traumatic subarachnoid haemorrhage in the brain cavities.  There were complex skull and facial fractures and he developed hydrocephalus. In addition to the heads of losses which included pain, suffering and loss of amenities, employment, care, accommodation, therapies and medical review, transport, equipment, holidays and emergency treatment and Court of Protection costs, there were also cross jurisdictional issues (Regulation (EU) No 1215/2012 of the European Parliament and the Council of 12 December 2012, Article 53 Certificate of Enforceability) involving approval in UK and Poland. Following a JSM, the case settled for an increased £3 million on account of the revised discount rate. The money was invested in the Polish equivalent of the Court of Protection with a bank account in the Claimant's, came under the supervision court, in which the money was transferred.

Re: VL (by his litigation friend IS) v G & RSA – (2017) – JSM resulting in a settlement of £530,000. Approved by His Honour Judge Gregory sitting at Walsall CC.

Junior Counsel for the Claimant, a Lithuanian national, who suffered from compound facial, orbital and cranial fractures with a fracture of the transverse process of the C7 vertebra as well as a widespread comminuted fracture of the left frontal and temporal bones of the skull extending into the orbital margin and sphenoid wing. He suffered from a Dysexecutive syndrome and lacked capacity. Following a JSM, the case settled for £530,000.

Fisher & Others v Minhas (2016) – JSM resulting in a settlement in excess of £1.5 million.

Led by Michael Redfern QC. The Claimant, a 36-year-old electrician, suffered brain contusion, comminuted fracture of left tibia and fibula with significant bone loss and major skin loss, i.e extensive degloving over the anterior shin, closed abdominal injury including laceration of the liver and minor splenic haematoma, soft tissue abdominal wall injury resulting in scarring and fracture of mid shaft of left humerus sustained serious injuries as a result of Defendant driving his car into him and his family. In addition to the main action, there was also a claim for psychiatric issues suffered by the wife, who did not suffer any physical injuries, and uncle, who appeared on the scene following the accident (secondary victim), dependency claim brought by the grandmother on account of the grandfather's fatality, and two young children who witnessed this horrific accident.  Damages consisted of past and future care, substantial loss of earnings, accommodation, equipment, therapies and transport. Following a JSM, all cases settled for more than £1.5 million.

Mahmood –v- Hussain & Aviva (2015) – JSM resulting in a settlement of £1.25 million. Approved by HHJ Gosnell sitting at Bradford CC.

Junior Counsel for the Claimant who suffered either a minor direct blunt trauma to his head (coup injury) or, alternatively, an acceleration deceleration injury causing trauma (contra coup injury).  There was some brain trauma resulting in damage to subdural blood vessels and an acute subdural haematoma resulting from the accident on the background of anti-coagulation. But for the accident, the brain haemorrhage would not have occurred.   Drafted complex statements and assisted in the preparation of the schedule. Following a JSM, the case settled for £1.25 million.

Book BarristerBack to top

Inquests

Sufiyan regularly appears for care homes, families and insurers at Pre-Inquest Reviews (PIR) and Inquests. He has a special interest in and conducted a number of Article 2 Inquests.

Recent Inquests

Re: ALJ: Represented the spouse of the deceased following a death at work before a jury.

Re RD: Represented a care home following the death of a patient.

Re: JP: Represented family of the deceased who died in custody thus engaging Article 2. The Inquest was heard before a jury over four days and involved issues of ACCT, provision of health care, and systematic and operations failures.

Re: IH: Represented a care home following the death of a patient.

Book BarristerBack to top

Clinical Negligence

Sufiyan has conducted a number of clinical negligence cases involving missed, delayed or wrong diagnosis, negligent treatment, wrongful birth, negligent nursing and care.

Recent cases

Re: Rogers (PR of estate of Nicola Rogers) v Dudley Group NHS Foundation Trust (2019) – Queens Bench Division, Master Cook.

The Claimant brought an action on behalf of the estate and dependents following the deceased's sub-standard treatment and death at the Defendant's hospital. Liability and Causation were denied. Following a JSM (in which the Claimant, represented by Richard Norton, secured a settlement of £175,000), the claim required approval before Master Cook as two of the dependents were minors and the settlement included an apportionment. Master Cook approved the settlement, invested the monies on behalf of the two minors and approved a deduction of 25% of the Claimant's past losses for the success fee charged.

Re: MR (2019)

Junior Counsel for the Claimant who sustained cerebral palsy following a placental abruption and a delay in transferring the mother to the delivery theatre leading to significant mobility, cognitive and respiratory issues.

Re: JD (2018)

Acted for the Claimant in an action against the NHS trust for negligent treatment during child birth that led to the development of arachnoiditis.

Re: RW (2018)

Acted for the Claimant who claimed damages in respect of failure to diagnose and treat Guillain-Barre syndrome resulting in severe neurological injuries.

Re: SJH (2018)

Acted for the Claimant in a claim involving the unnecessary drainage of an endometrioma during an oocyte collection without appropriate antibiotic cover, failure to administer a metronidazole suppository, and a lack of multi-disciplinary team discussion at the end of the patient's operation.

Re: KJG (2017)

Acted for the Claimant in an action against the trust for failing to inform him about the presence of an extra-axial mass and to correlate it with the previous neurological records resulting in a failure to carry out a timeous surgical operation.

Book BarristerBack to top

Disease

Sufiyan is highly experienced in disease cases and regularly advises on liability, causation and quantum. He regularly drafts pleadings, Part 35 questions for experts and is acutely aware of issues regarding limitation, de minimis loss and quality of audiograms.

Recent notable cases

Ashmore v Designer Choice Upholstery Limited (2018) – Coventry CC – Recorder Readings

Represented the Claimant in a NIHL case involving issues of breach, causation and limitation.

Constantine v Ip Pontefract (2017) – Sheffield CC

Acted for the Claimant in a NIHL case in which breach, causation and limitation were all denied.

Rowlinson v Stoke on Trent Boat Building (2018) – Stoke CC

Acted for the Claimant who had sustained HAVS and CTS following exposure to vibratory tools.

Book BarristerBack to top

ADR and Mediation

Sufiyan is an Accredited Mediator.

Book BarristerBack to top