Mark Brookes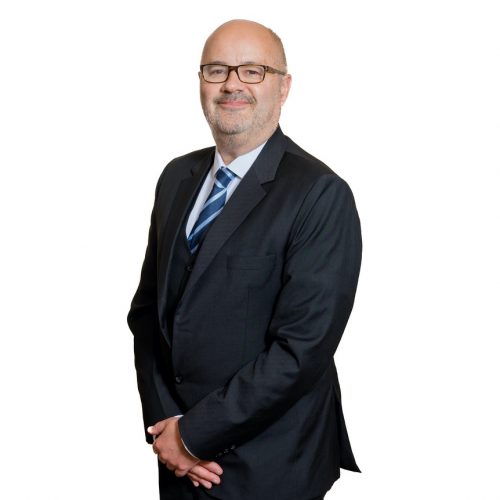 Mark Brookes has over 30 years' experience of practice as a criminal lawyer.
He started in the mid-eighties as a Prosecutor, at the inception of The Crown Prosecution Service, in a career where he led teams of lawyers and caseworkers throughout Yorkshire. His responsibilities included overall casework responsibilities including the 1996 prosecution of the youngest ever youth for a homicide offence and the National Lead Tutor for the prosecution of drug matters.
In 1998 he was the founder member of a specialist criminal defence firm based in West Yorkshire. This practice developed a reputation for the high quality of advice and advocacy and attracted national media attention for a number of high profile cases.
In 2013 Mark was called to the Bar. He has developed a mixed Prosecution and Defence Criminal Practice. He is a Grade 3 Prosecutor in the General Crime list. He has highly developed communication skills, evidenced by his approachable style with both lay and professional clients and his clear and concise advocacy style.
He is registered to take Direct Access work, this has enabled him to develop a specialist road traffic defence practice.
Appointments
Expertise
Crime

As a Grade 3 Prosecutor, Mark is regularly instructed to prosecute all areas of general crime in the Crown Court.

Violence

R V H 2020, Sheffield CC: Defence of a man prosecuted for the arson with intent of a house. The case was aggravated by the transgender identity of the complainant. The case attracted national media coverage.

R v H 2019, Hull CC: Led Junior in the defence of a man accused of the murder of a rough sleeper in Scunthorpe.

R V F 2019, Sheffield CC: Led Junior in the successful defence of a man accused of murder following the death of a man at a house party in Grimsby.

R v A 2017, Bradford CC: Successful prosecution of a defendant prosecuted on the basis of forensic evidence of a car jacking leaving a tribunal hearing.

R V S 2016: Successful defence of a 16-year-old tried on a count of Section 18 inflicting grievous bodily harm with intent. Case notable due to the media attention it attracted and the life changing injuries sustained by the victim.

Sexual Offending

Mark is instructed to defend the full spectrum of sexual offences including rape, sexual assault, indecent images, sexual offences against children and historic sexual offences.

R v A 2019, Minshull St Crown Court: The defence of a 21-year-old man accused of the rape of two separate complainants during the course of relationships. The case involved careful and detailed examination of digital evidence including messages between the defendant and complainant.

R V D 2017, Bradford CC: Defence of a 70-year-old man prosecuted for long standing abuse of a family member. Case notable for the sensitive cross examination of a 6-year-old complainant.

R V B 2016, Leeds CC: Defence of a 70-year-old disabled man prosecuted for abuse of two children. This case notable for the pre recorded cross examination of the two young complainants as part of the Section 28 pilot project at Leeds CC.

R V McDowell 2014, Carlisle CC: Successful defence of a man following a two week trial on allegations of abuse of two children over a 20 year period at various points throughout the country.

Dishonesty Offences

R v C 2016, Southwark Crown Court: Defence of a man prosecuted as part of a national conspiracy in the production and distribution of false MOT certificates.

R v M 2014, Leeds CC: Successful prosecution of a large scale conspiracy to handle the parts of high value cars, the proceeds of dwelling house burglaries in the North of England.

Book BarristerBack to top

Inquests

Inquest of SC, Bradford Coroner's Court: Instructed by the family of SC to represent their interests. After a week-long inquest the coroner's finding was that SC had been lawfully killed.

Inquest, South Yorkshire Coroner's Court: Provided advice and assistance to a Registrar who had provided aftercare to the deceased on a matter where a patient died at Barnsley DG Hospital following a routine operation.

Book BarristerBack to top