Fayaz Hammond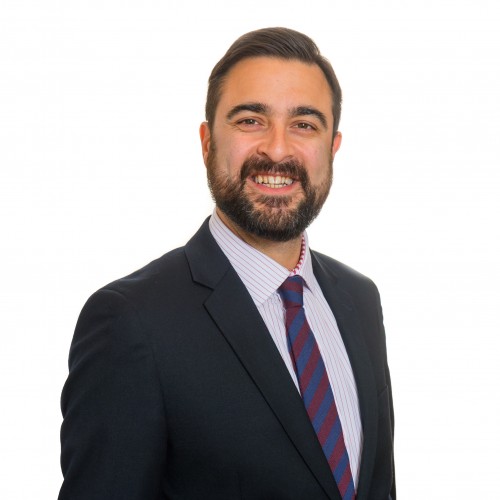 Fayaz studied Law at the University of Sheffield and took the Bar Vocational Course at Manchester Metropolitan University.
Fayaz grew up in Didsbury and completed his pupillage at St James's Chambers in Manchester. He joined St John's Buildings in June 2015.
His practice covers two main fields: personal injury and immigration. Following his appointment to the Treasury Solicitors' Regional Panel, he has developed a growing practice in administrative law.
Membership
Northern Circuit
Personal Injury Bar Association
Appointments
Fee-paid judge of the First-Tier Tribunal (Social Entitlement Chamber)
Co-opted Judge in the Court of Protection
Fayaz presents CPD accredited seminars in immigration and personal injury law. In recent years he has written and presented the following seminars:
Delegable Duties in PI Cases
The 44th Amendment to the Civil Procedure Rules – Changes to the Rules on Admissions and Offers to Settle
Bhatt v Fontain Motors – the Correct Approach to Work at Height Claims
A Beginner's Guide to the RTA Claims Process
Costs in Personal Injury Cases
Recent Cases Involving CPR44: Counting the Cost
Part 36 – the Search for Consistency
Pre-Action Correspondence – Best Practice for Busy Solicitors
Unusual Aspects of PI Litigation – Limitation Periods, Insolvency in PI Claims and Accidents Involving Various Methods of Transport
He has also written the following articles:
Seatbelts, Cycling Helmets and Contributory Negligence – Where are we up to?
Terminating Retainers – and Still Getting Paid
Interlocutory Cost Orders Where Fraud or Exaggeration is Alleged.
Fayaz is a qualified pupil supervisor and was the Direct of Pupillage Training for five years at his former chambers. He is committed to the training and education of junior and future members of the Bar and is a regular visitor to schools and colleges to talk about the opportunities that the job provides. He has recently become an accredited Advocacy Trainer at Gray's Inn and teaches civil litigation for the Inn at its residential courses.
Fayaz has a devotion to Manchester City and enjoys contemporary novels, sport, travel and food.
Expertise
Personal Injury
Regulatory
Costs
Public / Administrative
Fraud - Civil
Personal Injury

Fayaz appears for Claimants and Defendants in all aspects of personal injury litigation. He is a busy trial lawyer and has particular experience of dealing with RTA fraud cases where, for example, low velocity impact, staged accident or phantom passenger are alleged. He also regularly deals with interlocutory hearings in all types of PI claims, including applications for strike-outs where abuse of process has been pleaded. In recent years Fayaz has conducted a number of JSMs in high-value cases.

He has particular knowledge of benefits issues and has expertise in issues relating to CRU.

Examples of the specific areas of PI work in which Fayaz has expertise and experience are:

Clinical Negligence

Fayaz's experience in medical matters is essential to his clinical negligence practice. In his time at the Bar, he has worked closely with medical experts across all disciplines.

Road Traffic Accidents

Fayaz has had significant recent experience in claims involving buses and other methods of public transport. He is able to assist solicitors in dealing with the difficult issues of disclosure that often run hand in hand with these types of claims. He has also acted in a number of claims involving claimants who have run or cycled into the road from the pavement with little or no warning. Fayaz has been involved in credit hire, storage and recovery claims since they first came to prominence.

Employers' Liability

Fayaz has appeared in trials involving all of the major sets of Health & Safety Regulations ("the six-pack"), however, he has had considerable experience and success in cases where breaches of the Manual Handling Operations Regulations 1992 and the Workplace (Health, Safety and Welfare) Regulations 1992 have been alleged. He is fully versed in the legislative changes encompassed within the Enterprise Act and is happy to advice on their effects.

Public Liability

Fayaz has an excellent record of success in highways tripping claims. When consulted at an early stage he is able to assist with issues involving disclosure and compliance with the Code of Practice, key ingredients in succeeding in bringing or resisting these types of claims. He has also had a number of successes acting for claimants against shopping centres, markets and supermarkets where claimants have slipped on the premises.

Other PI cases

He has also had involvement in consumer protection cases, cases involving animals (most notably accidents involving dog bites and falls from horses) and he has presented in-house seminars following his success in a series of claims where breaches of the Defective Premises Act 1972 were relied upon. Fayaz also accepts instructions to represent interested parties at inquests where a personal injury claim may result from a death.

Fayaz is an experienced appeal advocate and is skilled at assisting clients with the tactics to be employed when bringing or resisting an appeal. Unusually, he also has experience in obtaining freezing orders in personal injury cases.

Cases

Hussain v RAJ Transport

Walsall County Court. Successful defence in an RTA Fraud trial in which the issue of fundamental dishonesty was determined in relation to Qualified One-Way Costs Shifting

Ali v Mowat

Stoke on Trent County Court. Application for a third party costs order against a claims management company funding a claimant's credit hire claim.

Worrall v Manchester City Council

Manchester County Court. Succeeded in a highway tripping claim by overcoming the Council's strong section 58 defence.

Book BarristerBack to top

Regulatory

Actions Against the Police

Fayaz has experience in multi-day actions involving allegations of assault, battery, false imprisonment and negligence against the police. He has a particular interest in cases involving the use of non-lethal weapons, especially the use of a Taser.

Cases

Swarray v Greater Manchester Police

Manchester County Court. A five-day case concerning allegations against the police arising out of the use of Taser and an extended period of restraint against a man who had suffered an epileptic fit whilst at the gym. The Claimant suffered from rhabdomyolysis and renal failure and a central issue in the case was whether or not the restraint and Taser use had caused or contributed to his renal failure.

Book BarristerBack to top

Costs

Fayaz has a niche expertise in the field of costs. In his former chambers he drafted their pro forma Conditional Fee Agreements for counsel and has prepared practice guides to the transitional provisions that apply following the recent amendments to the CPR. He regularly attends Cost Case Management Hearings and has conducted a number of detailed assessments on behalf of both the paying and receiving parties.

Book BarristerBack to top

Public / Administrative

Fayaz has wide experience of immigration work and regularly appears in both the First Tier and Upper Tier tribunals as well as the Administrative Court.

In his administrative law practice he has dealt with cases involving, amongst other things, The Council of Europe's Convention on Action Against Trafficking in Human Beings 2005, the changes relating to the Points-Based System, Articles 3 and 8 of the Human Rights Act 1998, fresh asylum claims, curtailments of Leave to Remain and cases concerning whether or not a decision constitutes an Immigration Decision for the purposes of section 82 of the Nationality, Immigration and Asylum Act 2002.

Fayaz's practice also encompasses other human rights areas such as housing and social security as well as CICA tribunals.

Cases

G v SSHD

Administrative Court, Royal Courts of Justice. Permission hearing in a judicial review concerning the Dublin III Regulations, in particular whether or not it was appropriate to certify the human rights claim of an Ethiopian national who the SSHD was proposing to remove to Italy.

M v SSHD

Administrative Court, Royal Courts of Justice. Successfully resisting an application for judicial review of a decision of the SSHD who had refused an application for leave to remain by a foreign national who had married a UK citizen in the UK while his immigration status was precarious.

E v ECO

Stoke on Trent First Tier Tribunal (Immigration and Asylum Chamber). A successful appeal by a Libyan family whose leave to remain was about to expire but whose eldest daughter satisfied the requirements of 276ADE of the Immigration Rules thereby entitling the whole family to remain.

Book BarristerBack to top

Fraud - Civil

Fayaz has acted for a number of insurers in cases where fraud has been alleged or suspected. He is particularly adept at handling, and advising in relation to, Facebook/social media evidence. He understands the importance (and the limitations) of such evidence and is renowned for the tactical approach he brings to cases where there is a significant amount of disclosure by the insurer, i.e. cache, Facebook, investigation evidence and the like.

Fayaz has had considerable success in defending claims arising out of staged accidents and was involved in one of the earliest cases where the Court was required to determine whether or not a claim was fundamentally dishonest. He has also acted on a number of interlocutory hearings where issues, such as whether or not fraud must be specifically pleaded, have been determined, and he has presented seminars focused on how he Court should exercise its discretion when making a costs order in a case where fraud is a factor.

Book BarristerBack to top