Events &amp Seminars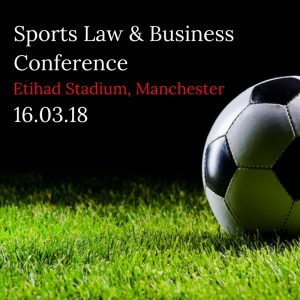 Posted on 02.11.2017
Date: 16 March 2018
Venue: Etihad Stadium, Etihad Campus, Manchester M11 3FF.
Time: 09:00 – 16:30 with networking drinks through to 19:00.
CPD: 6 hours.
After the success of last year's Football Law event, St John's Buildings, in conjunction with the Centre for Sports Law Research at Edge Hill University, is proud to present a Sports Law & Business Conference that will once again bring together leading sports law and business experts from across Europe. This full-day conference, to be held at Manchester City's Etihad Stadium, will allow those with an interest in sports law, governance and business the opportunity to hear what the leading experts think about the important issues of the day, before debating the same at a drinks reception and networking session.
Conference Topics
The topics to be discussed include:
Sports Media: Brand Rights in the Digital Single Market
E-Sports: Legal issues and opportunities in this developing area
Safeguarding: Ensuring the safety of participants & the possibility of future litigation
Sports disciplinary and arbitration panels
The need for a transfer system in professional sport
Equality in sport
Speakers
Confirmed speakers include:
Martin Edwards – Former Chairman and honorary life president at Manchester United
Despina Mavromati – Lawyer at SportLegis, arbitrator with Sport Resolutions UK and at the IAAF Disciplinary Tribunal
Paul Stewart – Former Manchester City, Tottenham Hotspur, Liverpool and England professional footballer. Author of 'Damaged'
Marcos Motta – Partner Bichara & Motta sports agency. Adviser to Neymar on his record-breaking transfer from FC Barcelona to Paris Saint-Germain
Sam Hillas – Barrister and Judicial Officer for the RFU, Six Nations and World Rugby
Clare Briegal – Chief Executive Officer, International Netball Federation
Ramunas Linartas – Policy Officer in the Sport Unit of the European Commission
Richard Cramer – Partner at FrontRow Legal. Advised Castleford Tigers in relation to the Denny Solomona dispute
Phillip Grundy – Barrister with expertise in physical and sexual abuse claims
Daniel Geey – Partner in the Sheridan's Sport Group with expertise in competition, commercial, regulatory & broadcasting issues. He is also the Chairman of Football Aid
Steven Flynn – Head of St John's Buildings Sport, Media and Entertainment Law Group.
Download the full brochure here.